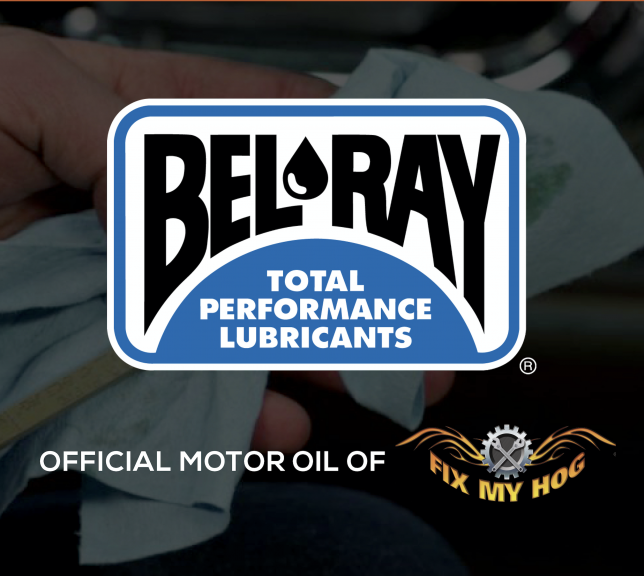 The Life Blood of Your Hog
Sure gas fires the engine that spins the crank but what about all those moving parts?
One of the major components of any service is lubrication. We need to remove the dirty fluids that lubricate our moving parts and refresh them with clean ones. This is why we are thrilled to be partnering with Bel-Ray lubricants for the 2020 riding season! Bel-Ray is now the Official Motor Oil of Fix My Hog.
Our master tech Mike Roen uses so much fluid in his shop that he has Bel-Ray motor oil in 55 gallon drums. We were already using their products in our shops, videos and our recent Harley Cafe Racer build got a healthy refresh with Bel-Ray lubricants which made this partnership a very easy decision.
Channel Marketing Director, Jared Martin, said of the new relationship, "We're excited to partner with Fix My Hog as it serves as an excellent platform to educate consumers about the advanced technology and performance benefits of Bel-Ray lubricants."
About Bel-Ray V-Twin Lubricants
Harley riders can rejoice! Bel-Ray has oils and lubricants for the Primary Chaincase, Big Twin and Sportster® Transmissions. Primary Chaincase Lubricant is specially formulated for optimum performance in primary chains and wet clutches, allowing for smooth and quiet operation. Reduced clutch slipping allows for consistent engagement every time.
For over 60 years Bel-Ray has engineered high performance products to keep your motorcycle on the road and the wind at your back. Continuing to innovate and raise the bar, Bel-Ray has launched a re-engineered line of high-performance oils and lubricants specially designed for V-Twin motorcycles.Bel-Ray's complete line of V-twin products features innovative new packaging and enhanced technology, which offers the discriminating user the ultimate in performance and quality for any V-Twin machine. Formulated by Bel-Ray's team of R&D engineers using only the finest base stock and additives combined to deliver the best results, Bel-Ray's complete line of V-Twin products is proudly made in the USA by people passionate about motorcycles. Bel-Ray knows that the road can be long and unforgiving, which is why Bel-Ray has developed V-Twin Synthetic Engine Oil 10W-50. V-Twin Synthetic Engine Oil 10W-50 lowers engine temperature while increasing horsepower, allowing you to ride longer and faster. You rule the road. Rest assured that your oil will not fail during a cross-country rally or a trip around the block. V-Twin Synthetic Engine Oil 10W-50 extends the change intervals for your bike so you can spend less time in the shop and more time on the road. Safe for all types of V-Twin engines, V-Twin Synthetic Engine Oil 10W-50 provides a viscosity stable formula with maximum anti-wear protection.
As the clutch engages, Big Twin Transmission Oil seamlessly takes over. The smooth and quiet transition between gears almost goes unnoticed as you glide effortlessly from first into second and so on. Even on heavily loaded transmissions you can expect Big Twin Transmission Oil to extend the life of your gears. Bel-Ray even provides transmission oil solutions for Sportster® riders with their Sport Transmission Fluid. Now Sportster® riders can enjoy all the same performance benefits that Bel-Ray provides. Feel the power between your legs as your bike cruises along better than it did the day it left the showroom. Bel-Ray unleashes the hidden potential of your V-Twin motorcycle.