Don't get used to average. You chose to ride Harley to avoid being average like all of the other run-of-the-mill bikes out there. You wanted the best American made ride possible. There's just one problem. The stock speakers and amp on your bike just aren't the best they can be. They're not bad, but there is a whole other world of crystal clear sound out there and you're missing out. The Hawg Wired DCS combo systems can bring your Harley radio to a new level that you didn't think was possible on a motorcycle.

For many riders, anything electrical on a motorcycle can be just as frightening as a deer jumping in front of you at 70 mph. If you are one of those guys, the American made Hawg Wired DCS (Direct Connect) systems are built just for you. The installation of the DCS kit truly is plug-and-play. There is no need to splice and solder anything. Hawg Wired designed the DCS to use the same connectors as your factory system and it utilizes your bike's existing wiring to power the amplifier.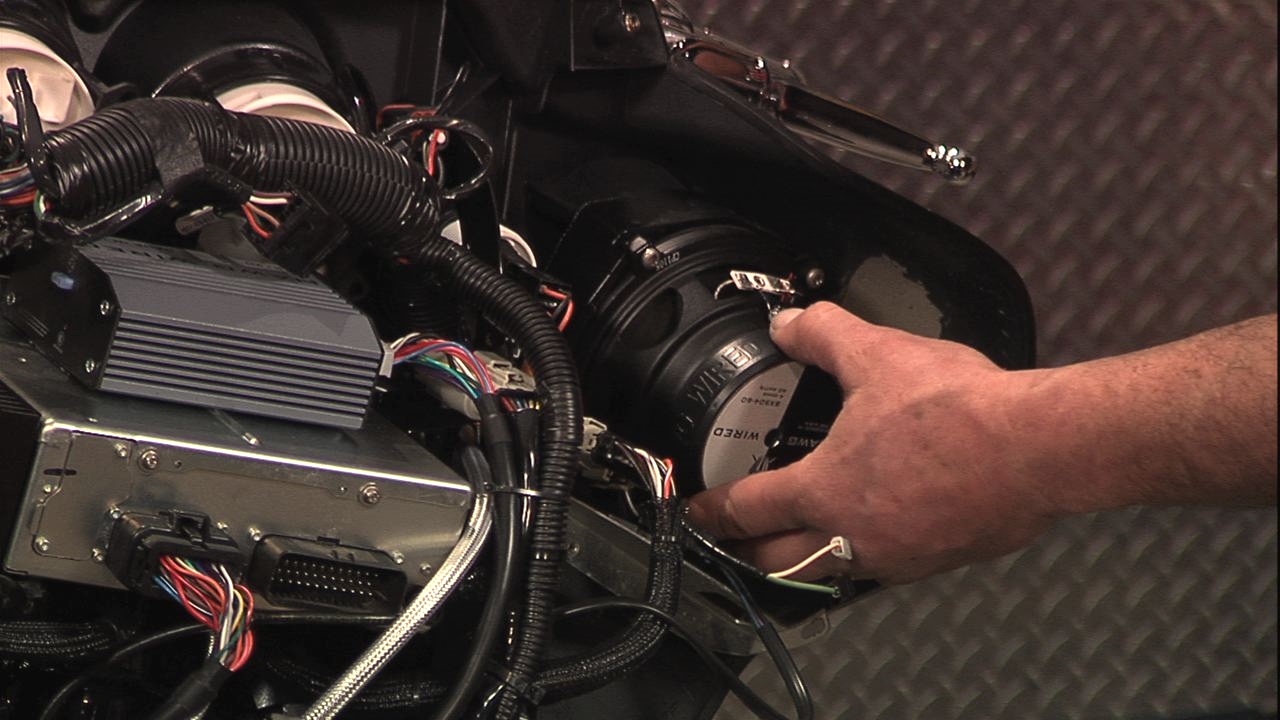 In other words, anyone can install the Hawg Wired DCS and in almost no time at all. With Hawg Wired's explicit instructions, you could have your new system installed within a half hour. See the install here: Hawg Wired

The DCS 120W Class-D amplifier is a huge part of what makes this system a success. Some of the benefits of Class-D amplifiers are they have a small size, are light weight, have a high power conversion and produces a low amount of heat. The installation of this amp does not compromise your bike in any way. The small size takes up very little space inside your Batwing or Shark Nose fairing. It also does not compromise your motorcycle's electrical and charging systems. In other words, there are no needed modifications to your bike.

There are two DCS kits available; the DCS/SX and the DCS/ZX. The difference between the two kits is the speaker size. The SX kit includes two 5.5 in speakers, while the ZX comes with two 6.5 in speakers. Both kits deliver big power, but the oversized speakers in the ZX kit will give you the extra bass and volume you may desire. Just like the amplifier, the speakers are completely plug-and-play to make installation a breeze.

The biggest test for motorcycle speakers is how they perform at highway speeds. They need to be able to cut through all of your bike's sounds in addition to all of the other road noises. These Hawg Wired speakers do just that with a very clean output that cuts through all of the noise.

If you do happen to be an audiophile, the DCS kits are sure speak to you. Hawg Wired has included built-in crossovers, giving you the ability to completely customize the sound. The amp also includes an RCA jack so you can use any non-Harley or aftermarket stereo. The options for you to customize your Harley's sound production are wide open.

Both Hawg Wired DCS kits are available for all 1998-2013 FLTR and FLHT models and also for FLHX models from 2006-2013. You should keep in mind that the DCS120 amp is only 4 ohm stable and is designed to only power two 4 ohm speakers and it is also not linkable. If you are looking to add more speakers to your bike, you will need a different amp.

So if you're tired of the average sound quality from your stock setup, check out the Hawg Wired DCS kits to experience what your motorcycle stereo should sound like.

For fast shipping and great prices on your Hawg Wired DCS kit, head over to the Dennis Kirk website.