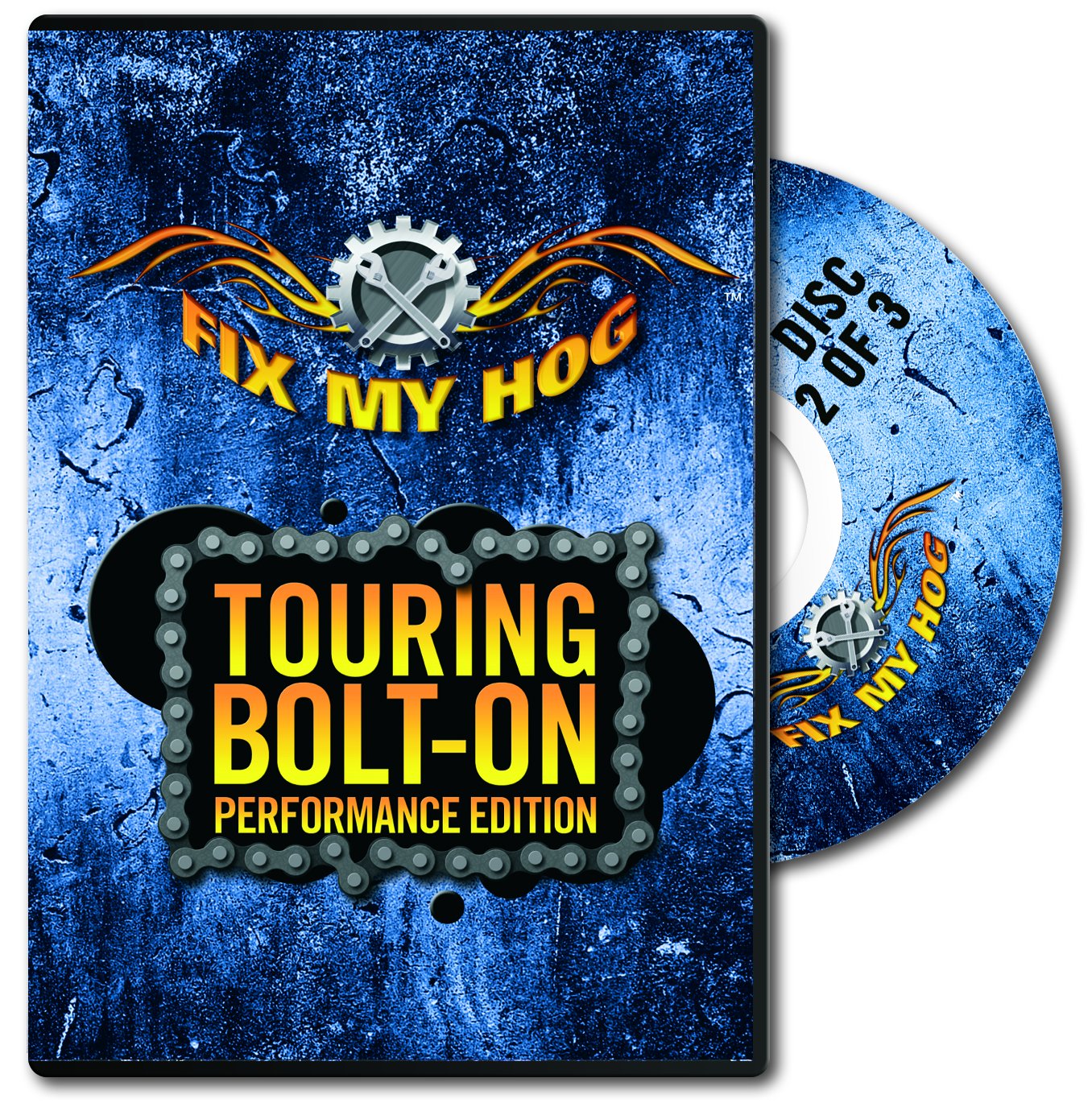 The popularity of Harley-Davidson cannot be denied. Mention to any nonrider that you ride a motorcycle and they will inevitably ask if it's a Harley. Coupling this name recognition with a market-driven demand for personal individuality has spawned a burgeoning aftermarket parts network. Catalogs thicker than city phone books are available; each is bursting with customization possibilities. It's tempting to browse these books and order additional bling.

But what about installation? Unless your shop guy makes appointments, it can often be a case of "drop it off and wait." Your job may only take a half day but there could be six bikes ahead of you. No one wants to leave their bike for a week.

Dennis Santopietro at Fix My Hog may offer a solution for the average do-it-yourselfer who has the desire to learn and the correct tools. Santopietro has previously produced a series of DIY maintenance DVDs for some of the most popular, current Harley-Davidson models.

The latest editions are the first to provide installation instructions for modifications and upgrades specific to the Softail/Dyna models and the Touring models. Engine mods shown are applicable to Evo, Twin Cam 88 and Twin Cam 96 engine configurations. Both the Softail/Dyna Bolt-On Performance Edition and the Touring Bolt-On Performance Edition include three DVDs, totaling nearly seven hours of close-up instructional video each.

The videos are shot using the shop technicians from previous issues and each procedure is illustrated in a clear, descriptive style. A complete list of tools is provided, and each tool is shown and explained. Specific information is given when needed for popular brand-name products like Mikuni, SuperTrapp, Barnett, PowerCommander, Dynojet and others.

In both sets, each DVD is indexed with projects generally becoming more technical as the video progresses.

The first DVD in the Softail/Dyna edition begins with basic projects. Brake lines, clutch cables, throttle cables, intake/air cleaner, exhaust system and new fuel-curve mapping are the easy mods. A bit more involved are categories including carb/intake, custom headlights/passing lamps and digital gauges. The last disc brings out the specialty H-D shop tools. Inner/outer primary covers and a performance clutch require special shop pullers, and adding a new chrome front end, wheel and brake hydraulic systems will require an assistant and special tools.

The touring set features similar modifications but adds fairing removal/replacement. Those of us who own faired motorcycles know the anguish of removing/replacing expensive fairing sections. The H-D fairing is stuffed with an amazing array of equipment that must be kept in correct order. It made disassembling my Ducati look easy.

Those who have the necessary tools and can follow clear and precise directions can do these modifications. Common mechanic rules apply: Go slow, be sure you understand the procedures and don't force anything.

An interesting chapter for H-D hot rodders is an included discussion between Fix My Hog founder Dennis Santopietro, professional mechanic Bob LaRosa and American Iron editor Chris Maida regarding the EPA restrictions on performance upgrades. California leads the nation in planned regulations regarding alteration of engine components and in enforcing the 1979 Clean Air Act regulations. Eventually, all new engines may be required to carry EPA certification paperwork or permanent stickers showing compliance with the new clean air regs. Add the eventuality of biannual registration smog certifications to the mix and the outcome is uncertain.

That poses another question: Will anyone be legally allowed to modify any certified engine?

The videos were professionally scripted, shot and edited and all feature Bob LaRosa as head mechanic. LaRosa is a graduate of the Motorcycle Mechanics Institute and worked eight years for H-D. He owns a shop in Connecticut where these DVDs were taped. Other titles offered in the Fix My Hog series are specific maintenance DVDs for particular H-D models including the Sportster series, Softail, and Touring models.