MotorcycleShippers.com brings the Café Racer to a happy rider.
A conversation that starts with "What If" can twist and turn down so many roads before coming out the other end. I was having a chat with our guy, Nate Beck, about his recent quest to buy a chopper. He had just finished documenting the experience for Fix My Hog via blog and video. We got into a "What If" that hinged on the search for a budget friendly Harley-Davidson that we would buy and clean up for a rider to get on the road.
Then, What If, we find a really good deal and do some minor, bolt-on upgrades to transform the budget Harley into a Café Racer?
The idea was in place and now all we had to do was find the deal. We worked our local network of people and websites. Our first contender would have needed to be shipped. That was okay because we had an easy shipping budget tool with Motorcycle Shippers and I had a budget line item already set aside on the spreadsheet. Luckily for our penny pinching build we found one close to our build site in Chicago.
Our find was a mostly stock 2000 Sportster and we transformed it from so-so to amazing. We did this all within a limited budget and a decent amount of hard work.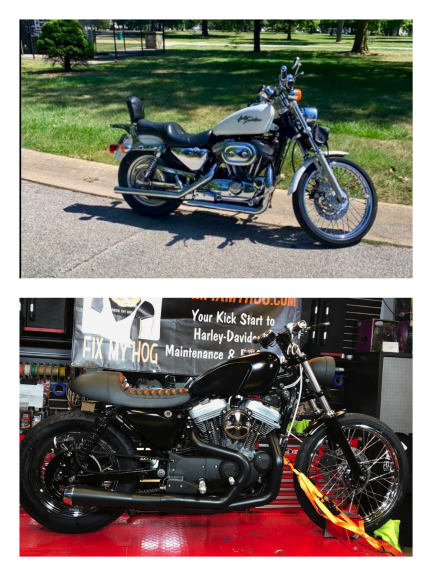 After the cameras shut off, the videos posted and the articles were written, it was time to find our Café Racer a home. We had a couple inquires about the build as soon as we started posting the videos of the project. I actually thought or hoped it would end up in my garage but the higher ups wanted to sell it and fund our next project. Good idea and I didn't have room in my garage or did I (always room for one more)?
We had some back and forth with the potential buyer and we landed on a fair price. Both parties knew the cost for shipping the motorcycle from IL to CT upfront because we used Motorcycle Shippers Free quote tool.
Time to ship it and it was as easy as this:
Go to MotorcycleShippers.com
Fill in the FREE Motorcycle Shipping Quote
You will get a fast and accurate quote.
Your cost includes $7,000 of valuation coverage and more available if needed.
The you can book your shipment just as fast and pay online.
Once we did that we got an email back with Pick-Up and Drop-Off date windows.
Communication is key.
We got a call from Motorcycle Shippers logistics that our pick up would be on the early side of the window that they had provided us. Great, let's get it on the truck.
In our case, dispatch called 3 days ahead of time and gave us a set date and a window for the pick up time. Our driver called us when he was about an hour out and pulled in on time.
Inspections where done and photos were taken: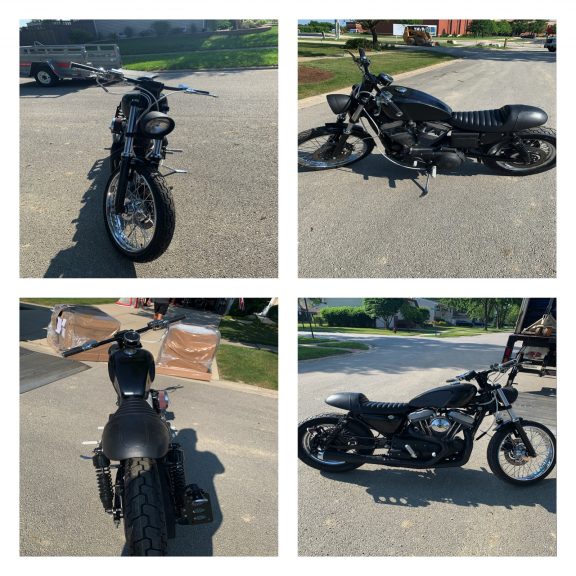 Our precious cargo was treated like such and loaded onto a special motorcycle skid and into the truck.
You can track your shipment as it moves on its way via the MotorcycleShippers.com tracking system.
For delivery we had a window of dates given to us already. As the shipment got closer, a drop off date was confirmed and a window for the drop off time.
The driver called before pulling into the area and was prompt on the delivery.
Unloaded, inspected and signed off. Our project is now an exciting ride for a new owner.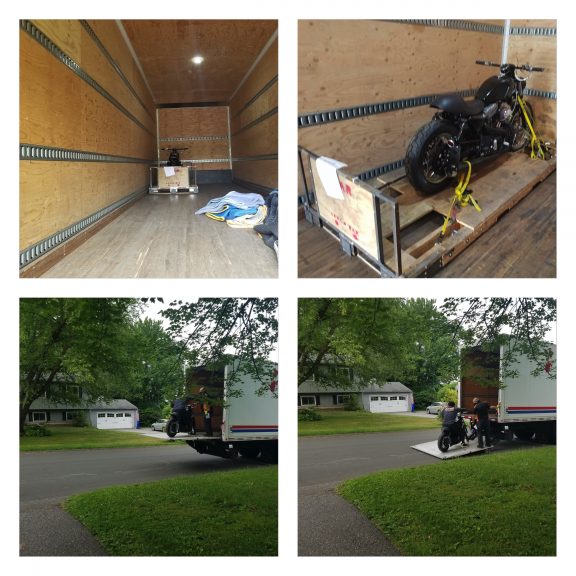 You took the time, money and effort to buy or build your motorcycle. Don't throw it in the back of a pick-up and hope it gets 2,000 miles to it's final destination in the same condition that it left. Build the cost of shipping into your purchase or sale with the easy process that Motorcycle Shippers provides. Take the time to watch their videos about the process of shipping a motorcycle and read their article on Getting a Good Deal on Motorcycle Shipping