So you wanna Choppaaa
Nate Beck shares his adventure back to the future
Heritage, to me, is one of the pillars of being a Harley Davidson enthusiast. Harley's pride in their heritage is one of the aspects that originally attracted me to being a Harley owner and rider. Their attention to detail on newer bikes like an old style tank badge, the way a fender flairs, or a paint job that gives a nod to past has always appealed to me. However nothing is quite like the real thing, and I've always found myself going back to swoon over knucks, pans, shovels, peashooters, flatheads, really anything pre evolution motor.

Late last year I started seriously kicking around the idea of buying an old shovelhead chopper and this past March I ended up fulfilling my dream of owning a vintage Harley and rolled a 1976 shovelhead into my garage. Throughout the buying process I found a couple unique differences when compared to purchasing a more modern used Harley so I'll touch on a few of those for any of you who are looking to get into riding old bikes.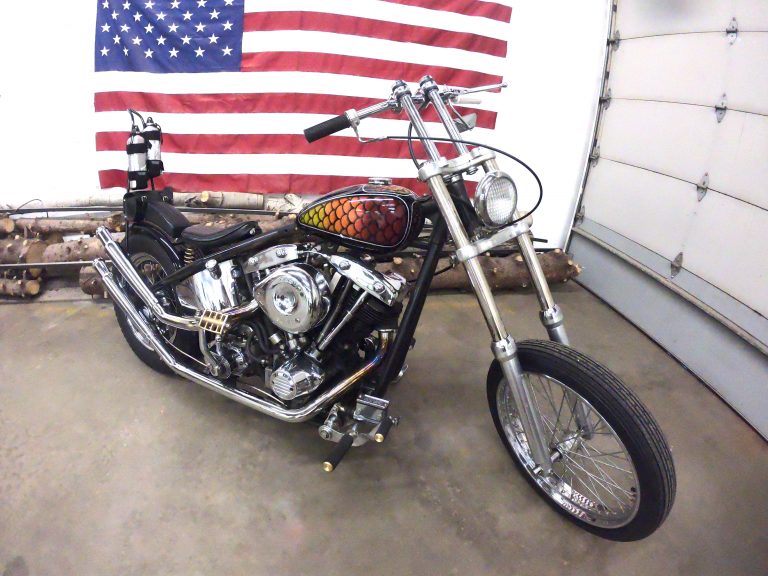 Learning about the motor you want to buy: Even though Harley generally makes a certain engine model for multiple years, each one tends to go through it's own phases so I spent months researching everything I could about the shovelhead motor and what changes were made throughout the years. With a shovel, '66-'69 featured the "generator shovel" being replaced by the "cone shovel" in 1970. The generator shovels were made previous to the AMF buy out that occurred in '69 therefore are generally thought to be of better quality, more rare, and more valuable. The cone shovel was then produced through '84. A major difference throughout the cone shovel years was the design of the transmission. Harley had been using a ratchet top transmission for years and switched over to a rotary top transmission in the later half of 1979.

There are multiple schools of thought on which one is better and if you talk to enough people you'll notice it starts to become the type of argument of "well what oil is best?". I've heard from the old gray beards that if you can get a late '77 or '78 those were the glory years within the AMF years because Harley retooled in '77 bringing all their machines back into spec. It remains to be contested on how much this played into the questionable reliability the shovelhead, however I tend to believe it was more of AMF's business model of over production coupled with the gas crisis that caused quality and performance to slip in the seventy's.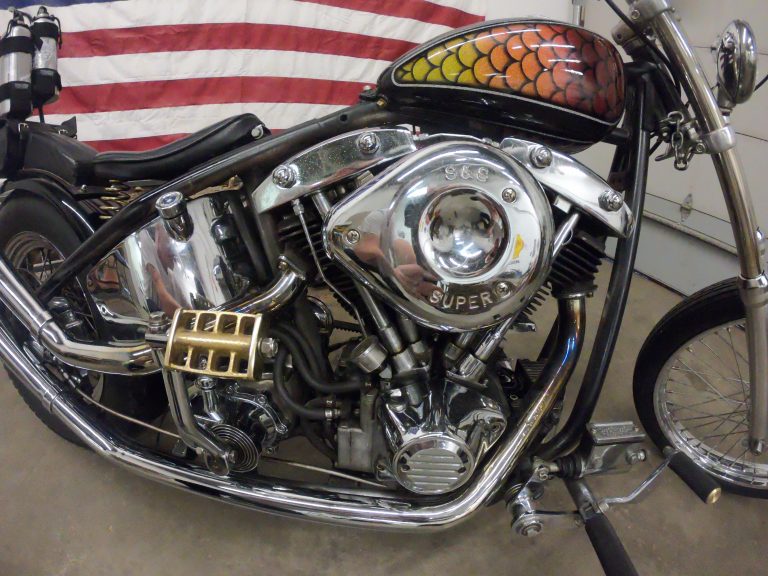 The search for the right bike: So after learning more about the history of the shovelhead I knew I wanted a 1973-early 1979 shovel so I'd have a cone bottom, the old style ratchet top transmission, and a hand clutch/foot shift as opposed to an older style foot clutch/hand shift that was available until '72.

After locking those years down, the search became much easier. I consistently checked eBay, locally via craigslist, and "chopper swapper" on social media. I also reached out to some vintage dealers and builders in the industry. In my experience, vintage motorcycle enthusiasts and riders are some of the most helpful and cool people who love to share their love of old iron.
I got a response from Vanilla Cycles, a dealer in North Dakota saying they were down at Daytona Bike Week and came across a bike they thought I'd love and sent all the pictures. It was a 1976 cone shovelhead hardtail chopper. Old school styling, peanut tank with custom paint, ratchet top transmission, kickstart only, open primary belt, no front brake, no turn signals, sissy bar, 21'' skinny front wheel, and an S&S super E carb with the tear drop air cleaner. A down and dirty hardcore shovel chop. Exactly what I was looking for and the pictures sent me into overdrive.

This is the part of buying an old bike that you have to stop your excitement and accept facts. Any bike can look great on its kickstand however old bikes require a lot of maintenance to keep running so starting with one that has been well maintained is vital unless you want to drop a ton of money into it or you've rebuilt old bikes previously.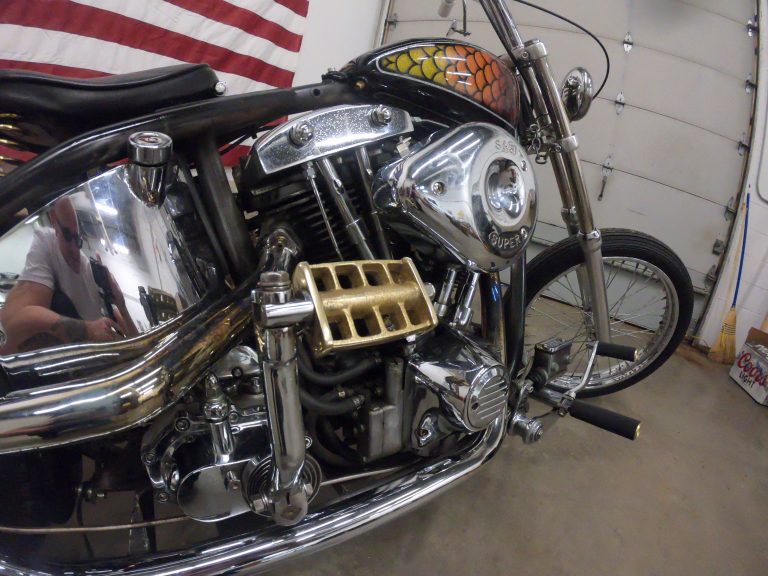 Here are a few of the absolutely necessary questions to ask in regards to the health of the bike. This was my list, but yours may differ slightly depending on your budget and capabilities.
1. How often is the bike run? Has it been sitting or been ridden?
2. Is the frame straight, any cracks or excessive rust?
3. When was the last time the motor was rebuilt? (If it hasn't or its been a long time, keep in mind that's a pretty costly affair if you have to hire someone to do it.)
4. When was the last time the carb was rebuilt?
5. What is the condition of the transmission?
6. Is the title clean, clear, and in hand?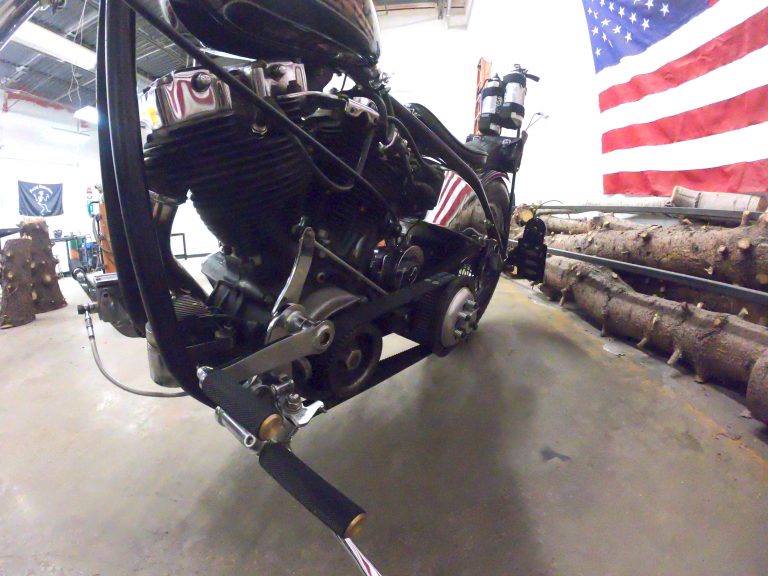 In my case, the previous owner had done a rebuild about 2,500 miles ago, the vintage dealer I was working with opened up the carb and gave it the okay, and it had a new 4 speed ratchet top transmission in it. The title was a "special construction" and the laws vary on from state to state on Special Construction titles so learning your states laws can influence your choice on buying.

My bike has the motor from '76, the frame is a custom frame that got a VIN assigned upon completion in 2014 and the new transmission came with the MSO which is needed for titling. Keep in mind, special construction titles can get finicky. Even though the motor is a '76, the bike is titled as a 2014 special construction HD. In the governments eyes it's a 2014. If I were to ever move to California, it'd be held to California emissions standards of motorcycles from 2014 which would be a stretch.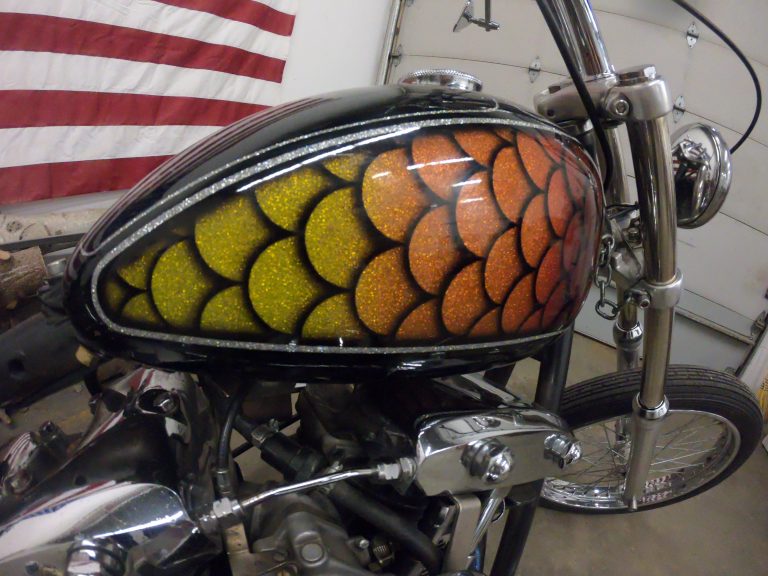 After the deal breaker questions were answered, I had a list of secondary questions of general wear items that I knew would eventually have to be replaced at minimal cost of the parts, a service manual and a few hours of my time. This list is the same as buying any other used bike no matter the year. The Fix My Hog Used Buyers Guide with Tommy does a killer job really getting into the nitty gritty details of this and it absolutely applies to vintage bikes as well. Questions like,
1. Condition of the cables? Are they near the max adjustment or do they still have some life left?
2. Condition of the tires? How much tread is left?
3. Condition of the brake pads and rotor?
4. Lastly, anything else that seems like its on the way out? Fork seals, bearings, belt, chain, clutch, etc.
I asked these questions just to get a better feel of the bike and what exactly I was buying. The worst is the bike showing up on delivery and giving you surprises and having to spend more money and time replacing parts as opposed to riding. The answer to these questions also gives a bit of a sneak peak into how the previous owner treated the bike. If everything's fairly shot and needs love, its pretty good chance the previous owner didn't take care of the internals either.
Before you buy:
Owning, maintaining, and riding a vintage Harley is a lifestyle choice due to the time commitment required with old iron. They don't ride, store, sit, and start as easily as newer Harleys. The maintenance intervals are much shorter than on new Twin Cams or M8's. In my experience, maintaining an old Harley is not necessarily difficult but it is time consuming. My chain needs to be cleaned, inspected, and lubed every 300 miles. Oil checked weekly, changed every few thousand miles, and oil tappet screen needs to be cleaned and maintained. Spark plugs need to be checked as they give you a lot of insight as to how your engine is running. With a hardtail solid-mount rigid, all the nuts, bolts, and fasteners need to be checked for proper torque often. Unless you completely rebuild and replace every wear item, something is wearing out and will need replacing sooner than you expect to.


A properly maintained vintage Harley will be just as reliable as a newer one its just the effort that needs to go into it is much greater. People who own and ride vintage Harley's enjoy the maintenance and say it brings them a closer relationship to their bike but it is definitely not for everyone. Being honest with your expectations of a vintage Harley before you buy one will save you time, money, and frustration in the long run. Part of being a biker is knowing how not to be stuck on the side of the road and taking the time to properly maintain your vintage Harley is the first step.
Until next time, ride safe, wrench safe, and we'll see you on the road.
Fix My Hog Buyers Guide Videos:
Used Harley-Davidson Buyer's Guide
How To Buy Used Choppers
Know Your Maintenance