My Dad's stories were a big part of my interest in Harleys and starting Fix My Hog. Here's his story (well one of them).
The year was 1956 and seven club members of the Sinners motorcycle club left Litchfield, Conn. for Canada. My ride was a 1948 full dress Harley, that I still own, (funny I thought "we owned" – Dennis note) I paid $250 dollars for it and had an old timer register it for me because my Mom did not want me to own a motorcycle. Abbie had a 1955 full dress Harley, Bill Larson had a 1949 Harley Chopper, John Colucci had a 1951 Chopper, Ed Rocco had a 1952 Harley, Jerry LaRosa had a 1954 full dress, Al Dance had a 1951 full dress.
At the time, there was very little car traffic and it was perfect for motorcycle riding. We were off on an adventure that many young men could only dream of. We rode along and the night stayed clear and cool it was a perfect June evening. The moon was the only light shining our way, no street lights where we were heading. The first few hours of our 16 hour trip to Montreal, Canada were beautiful then all of a sudden, Al hit a woodchuck and lost control of his bike and ended up in a hay field. Thankfully he was unhurt and had no real damage to his bike. Further on down the road one of the guys just about fell asleep on his bike and luckily he only slowed down and kept it upright until Abbie rode along side of him and shouted at him to wake up. For safety sake we found an all-night Dinner had coffee and took a break.
A few more miles into the ride and John Colucci's chopper, which was held together with bailing wire (he was noted for poor mechanical skills), lost his chain because the connector pin did not have a lock link. Abbie cut a length of barbed wire and tied it to John's handlebars and back to his luggage rack to tow him 50 miles up the road to a truck stop. They were nice enough to let us borrow a length of rope, seemed to be safer than the barbed wire. At this point, John was so cold he put his jacket on backwards, his socks on his hands and a baseball cap that I gave him on backwards. Abbie told him to keep tension on the rope at all times. Everything was fine for 30 or 40 miles until we came to a bend in the road and John let the tension up. Abbie gassed it and the slack tightened and down John went with me right on his tail, almost going over with him. Along comes a car, looks at John with his clothes on backwards and the guys' head almost snapped off it spun around so fast!
The next day we found a bike shop in Vermont and we waited for it to open, we bought a master link and repaired John's chain. By now it was getting light out and time for some breakfast.
Before I get into that, I must go back to the night before going through Mass. and into Vermont. The June bugs were as big as a half a dollar and luckily I had a windshield along with several of the others. The poor bastards without one got hit in the head so many times that they almost got knocked off their bikes and I think it made them a little punch drunk.
Anyway, the next day we finally arrived in Canada and we located a place to stay called Mount Elephant (sounds better in French) outside of Montreal and we rented a cabin that slept 8. We went into town and bought groceries but no one really knew how to cook so it was mostly hot dogs and beans. This was a big campground and they had a huge pavilion with a bar and even a few girls! Well, at the time everyone loved Elvis so we told the girls that he lived up the road from us and rode with us. You have to remember this was 1956 and you could throw the bull a little because the telephone was the only form of fast communication, we made the best of it. We settled in for a week of ridding, exploring Montréal and all that comes with being a Harley Man. The only trouble we had was with the choppers, but nothing we could not handle.
The return trip home was a total different adventure because one of the guys said he knew a faster way Home!!!
My Dad, Sal, continues the story after a few weeks via email to me (Dennis):
Back in 1956 most of my friends were into horses or Harleys so it did not take much to put a ride together to go anywhere. It seemed that it always happened on a bright moonlit night that someone would say "let's take off" (always on a Thurs or Fri. night) and off we would go over the hill to see what was there, we were all in our teens and school was over and whoever had a summer job worked around it.
To finish the trip back from Canada I will start with how nice people were back then. For instance, coming over the border from Canada into Vermont was no problem and the border guards' wished that they were riding with us. They checked what little they had to for customs and wished us a great trip home. There were not many gas stations back then but we found one at 6 am in a little town in VT. They treated us great. They gave us coffee and biscuits and we gassed up to get back on the road.
It was a cold and damp morning and a couple of miles down the road John's chopper lost the bolts and nuts for the back fender and it slid down on the tire and started to smoke. We made it to a farmers fruit and vegetable stand and he told us that there was a bike shop about 20 miles down RT 5, which followed the Vermont / New Hampshire border, so we wired the fender up as best we could and slowly made it there. We pulled in to find that he would not be open for another two hours. No problem, we set up camp in his field, made a fire, took out our army mess kits, made coffee, ate the rest of the biscuits that we had gotten earlier, and laid out till the man was open. We bought some nuts and bolts and repaired the chopper with the help of some additional bailing wire.
Our next unplanned stop was in Springfield, Mass as we were cutting over to Pittsfield, Mass to see Al's girl. There we met four Harley people and they treated us to a bike wash (remember the June bugs splattered all over our wind shields) and they showed us a bike shop where I bought a new pair of bar grips with the fringe hanging off. Most of our problems with the bikes were self made and all you needed was a 9/16 or 5/8 wrench, a pliers and a screw driver and you could fix anything. It was a safe trip back to CT from there and as you can see a lifetime of memories were made.
Side note my Dad sent me: – I just received a call from Bob in Fla. and he found pictures from the trip and is sending them. I also have a call into Bill's wife to see if she has any others. Bill Larson lives in Idaho and has a bike repair shop. For many years he traveled the bike racing races and sold parts and competed. I spoke with his X wife this past Christmas and can find out more if needed. I will try to reach Bob Reed and try to remember more…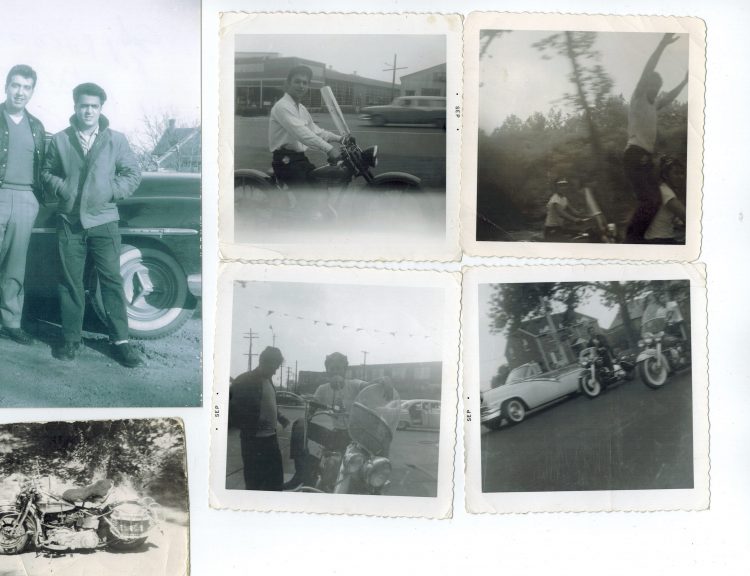 (So cool he reconnected with some old friends to write this story for me)
Then there was the 1957 trip to Pennsylvania with 15 riders all Harley's … I'll need a beer to remember that and write it.
Time in the Army:
Three months Fort Dix NJ
Three months Fort Sam Huston, TX
18 months Germany
2 years active reserve
2 years inactive reserve
6 years all toll
April 1962 From Fort Sam Huston Texas medic training
Assigned to 34th Armor Division attached to 24th Infantry
After training off to Munich Germany
April 1962 Troop Ship to Bremerhaven, Germany
Train to Munich Germany
Head Q Co. Medic CO. C COMPANY Medic in charge until June 1962 – Henry Kaserne base
Then assigned to Main Hospital Clinic – medic in charge until April 1963
Then to 2nd Field Army Hospital Munich as a student in XRAY Tech until October 20th 1963
Back to 34th and transported to Bremerhaven. Germany port for troop transport and served as Medic in charge of troops until we landed in BROOKLYN NAVY YARD USA.
The 34th Armor was a Tank Outfit attached to the 24th inf. It was changed to the Third Armor 2 years later
Go to facebook Henry Kaserne Veterans you will see a lot of pictures.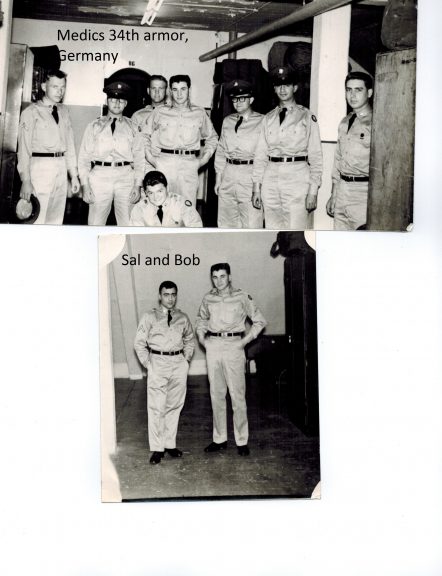 Entered Training School at St. Mary's Hospital, Waterbury, CT, as XRAY Technician Graduated June 1965 College after that. And you know most of the rest, married your mom(52 yrs and she still likes me), had your brother and you and those are many, many more stories.
Much Love,
Dad
Found pic of you(missing tooth) and I in garage working on Pan – but that's a big hammer!"