We're never ready for riding season to end, but for those of use living in cooler climates, winter storage is a necessary part of each year. We've compiled ten tips to help you store your motorcycle safely, and make it easier to get ready to ride in the spring. These tips are also helpful if you need to put your bike into long term storage for any other reason.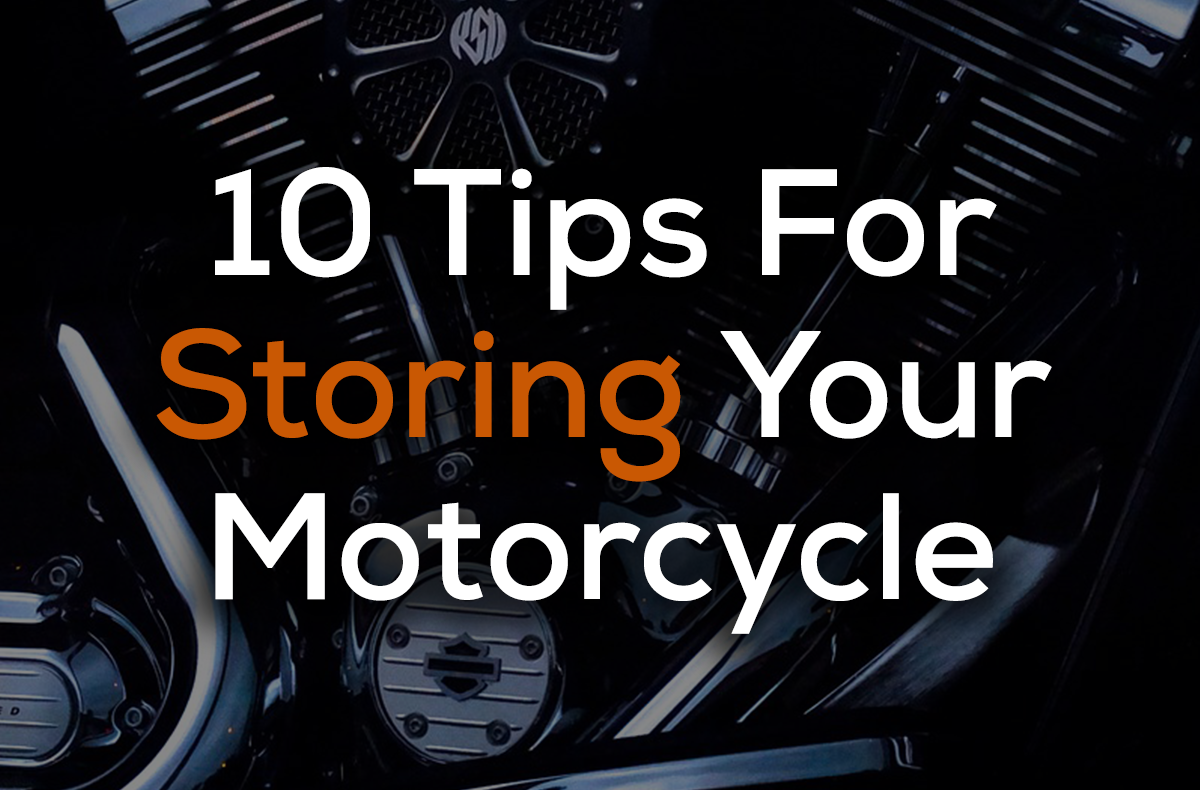 1. Make sure your motorcycle is clean. Wash and dry.
Related video: Harley Motorcycle Detailing Tips. Mark breaks his silence to give us his Harley motorcycle detailing tips and tricks.
2. Add stabilizer to fuel system and start motorcycle to make sure it is in the fuel system.
Shut value if carbureted model.

Related video: Draining Fuel & Fuel Tank Filter (Early Models). Bob demonstrates the proper technique for draining fuel from the fuel tank on your early TC 88 Touring model. He also teaches you how to maintain the fuel valve and clean the fuel tank filter once you've drained and refilled the tank.
3. Make sure your saddlebags do not have any snacks left in them. They would make a nice meal for rodents.
4. Raise the motorcycle off the ground to avoid a condensation line from a door being opened and closed and cold air coming in.
Related video: Handy Motorcycle Lift Safety and Tips. Here is a walk through on a Handy motorcycle lift for safety and tips. The Handy lift is made by Handy Industries and they are the specialist in pneumatic and electric motorcycle lifts. Built on nearly 50 years of manufacturing experience, they have the experience it takes to manufacture high quality bike, ATV, snowmobile and power equipment lifts.
5. Cover: A clean sheet not touching the ground is a cost affective way. Other covers are available.

6. Battery: Use a trickle charger or remove the battery and put it on a bench on a charger that has an sensor to turn on and off.
Related video: Harley-Davidson® Battery Tender Review. Unless you have a kick-start, you'll need a battery to get your Harley started and to keep it functional. Bob shares some tips on Harley battery replacement and upkeep.
Battery Removal Videos:
M8 Touring Models – Battery Check, Clean and Removal
M8 Softail Models – Battery Removal and Replacement
Touring Twin Cam – Battery and Seat Removal
Softail Twin Cam – Battery Charging System Check
Dyna Twin Cam – Battery Replacement
Sportster – Battery Removal

7. Use some steel wool in the end of the exhaust to keep the mice out. Have a checklist and make sure to remove the steel wool before you head out after storage.
8. Tires should be up off the concrete and at the right pressure.
If you do not have a lift, place a mat under the tires.
Garage Mat: Seen Here
Related video: Motorcycle Tire Maintenance Tips. We have mentioned this many, many times. Your tires are one of the most important parts of your Harley-Davidson and one that gets overlooked the most. Bob takes a few minutes to review what to look for when reading a tire.
9. If you get a nice day and decide to head out, look at your checklist and make sure you are ready to ride. When you get back wash, dry and go through your checklist to put it up again.
Related video: Motorcycle Pre-Ride Checklist. You know what has been done to your motorcycle and what is on the list of things to be done. It's the little things like tire pressure that are easy to check and crucial to motorcycle performance and your safety. In this video, Bob will review all that we should check.
10. Don't run out to the garage and start it every week. You want your fluid levels to stay full to avoid condensation.
Remember you will be riding again soon. You are not prepping your motorcycle for deep space travel. Do the basics and you can be ready to ride as soon as the weather allows.
More tips on long term motorcycle storage: