Harley-Davidson has been an American icon since 1903, and there have been generations of riders on the roads before us. In many cases, we become riders because of these older generations. Our parents, grandparents, or other family members introduced us to the lifestyle at a young age. It's not just about the motorcycle, it's about our memories created with them.
Think back to when you became interested in Harley-Davidsons. Was there a rider in your family before you? Who was it? Do they still ride? Do you ride together? Did they leave you a motorcycle? We want to know!
Fix My Hog wants you to share your story with us for a chance of a lifetime. If you have been left a family member's Harley-Davidson, tell us about you, your family member and the Harley-Davidson they passed along to you. We would like to share your story with the Fix My Hog community, and you might even get a chance to get that Harley fixed if it needs some tender, wrenching care from Fix My Hog.
Here are some great stories submitted by our members, visitors and newsletter readers.
Your Harley Story
THE LUCKIEST GUY: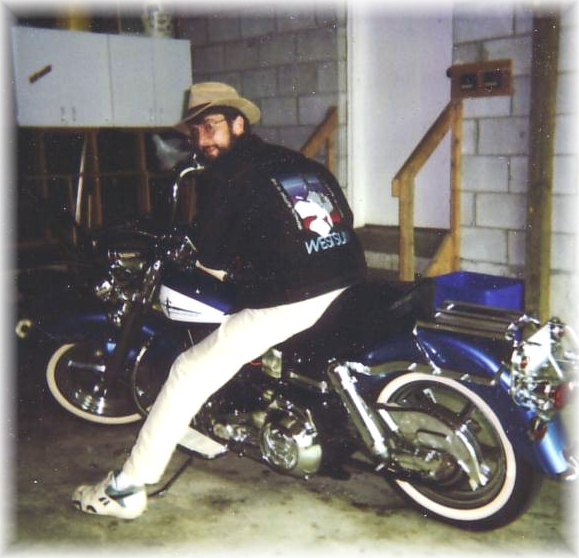 Sometime back in the early 90's I had just arrived at my girlfriend's father's house for a holiday meal of some kind (I'm gonna go with Easter, and assume that he was just getting his bike out of storage after the long, cold Canadian winter).
I'd been dating his daughter for some time, and that was going well, but these were still early days in my knowing her parents, so these events were kind of a big deal. Remember when?
Upon arriving at his house I found him in the garage, puttering around with a 1970 Harley Davidson FLH. Meticulously restored, and customed over the preceding 10+ years, the bike looked like it was brand new, with flawless chrome and a beautiful medium metallic blue and ice-white paint job, respectfully inspired by a factory original colour scheme.
He asked me 2 questions: Did I ride a bicycle much as a kid? And was my car a standard/manual? I answered yes to both and stood there expectantly, wondering what he was going to say next…
"These are the controls… (insert 30 second de-briefing about location of clutch, brakes and shifter)… Why don't you take this around the block and see if you like it?"
I cautiously straddled the 840lb pound machine, took a moment to collect my thoughts, check for oncoming traffic, squeeze down on the clutch lever and then I tapped the shift pedal… way too gently. Nothing happened. "Like you mean it!" shouts my girlfriend's father over the rumble of the machine idling beneath me.. I tromped on that peg, and it "clunked" into first with one of the most decisive and satisfying mechanical sounds I'd ever heard. I checked for traffic again, and eased out the clutch…
I'm not sure if I even shifted out of first… I may have made it into second… but I did make it, uneventfully, around the block and back into the driveway. At which point I got some help kicking out the jiffy stand, and leaning the bike over. As I raised my leg to get off the bike, I realized that despite the sunshine and warmth of the day, I was shivering. I had SO MUCH adrenaline coursing through my veins, my muscles were just vibrating in my body. That machine had spoken to me in a primal way that I have never bothered to try and understand, but it's a conversation that I enjoyed as often as I could in the following years….
Never as an Owner, I still managed to become a riding addict, and enjoyed taking in all kinds of sights, mostly in California and Nevada, from the backs of rented Harley's from EagleRiders. I settled on StreetGlides as my ride of choice from their inventory, and wished for the day when I might own my own horse from the Harley stable.
Fast forward to 2019, my girlfriend is now my wonderful Wife, and we have 3 lovely children to show for it, and that man who used to be my girlfriend's father, has been my Father-in-law for 17 years. While "reorganizing" the garage in order to make room for a new project car, he decided that it was time to put the bikes (he also did up a gorgeous mi 63-66 Rigid in matching blue) into a situation where they might see some use. Traditionally, never one to shortchange a mechanical process, unfortunately, after a "season's over, last ride" sometime in 2001, the bikes were put on their stands and left to wait over 18 years for their next chance. After deciding to let me have the 1970 FLH, many hours of wrenching joy were mine to savor, and what started out being in mechanically unknown condition, and looking like this…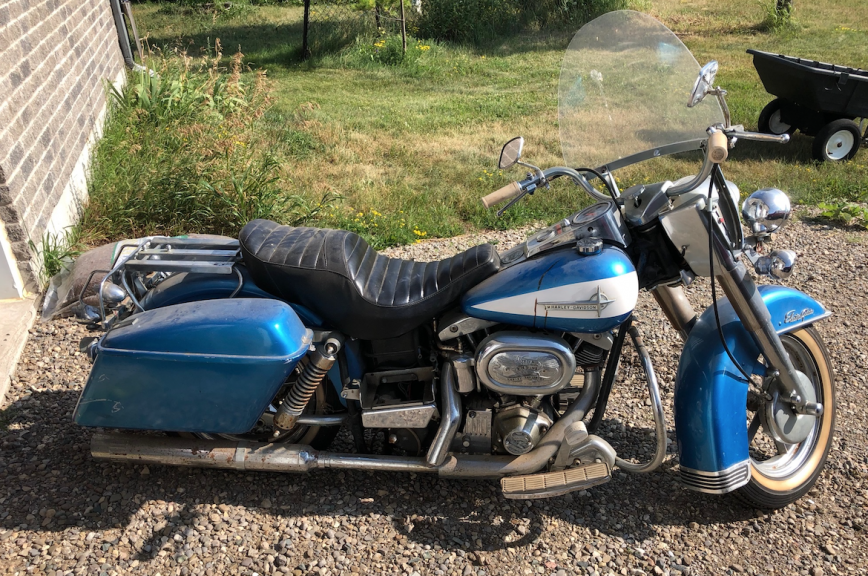 Is now down to a bad 3rd gear, brakes in need of TLC, and a mysterious "won't start" issue, with a functioning starter and new solenoid… during which time she looked like this…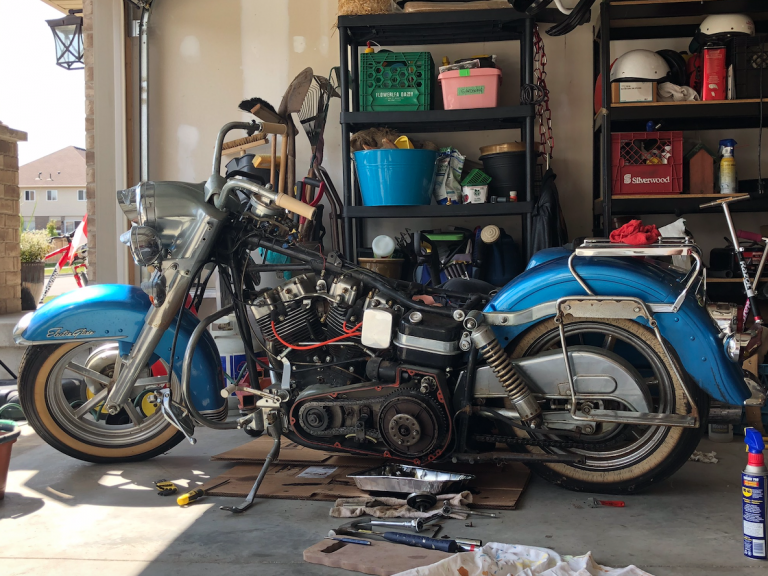 BUT… now she looks like this…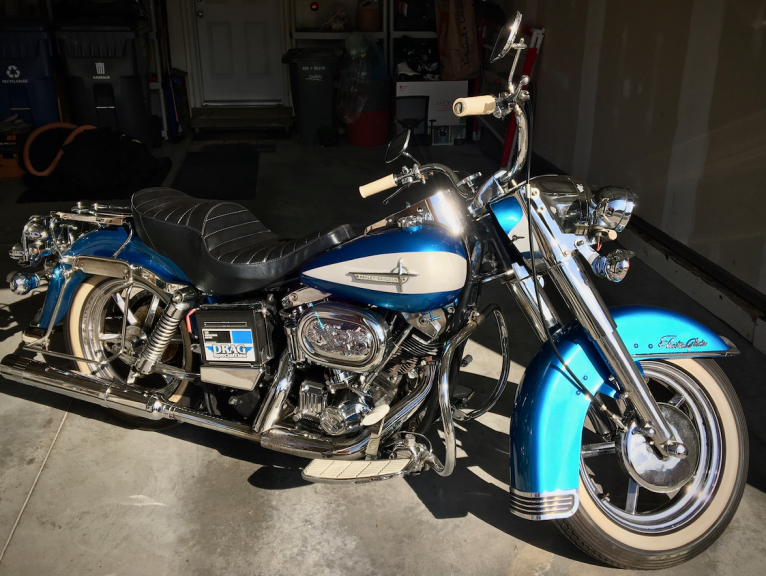 I'm definitely looking forward to getting everything checked off the "fix it" list, and enjoying a leisurely winter of making everything just right, then climbing back on to relive the thrill of that first ride; I am anxiously anticipating a "second first ride" on the first bike I ever rode, but this time, as an Owner.
If I'm really honest, I feel a little bit of that first ride rush almost every time I drop any Harley into gear… that distinctive clunk telling you that you have made the decision to go, and your faithful machine is there with you, ready to take the road to wherever.
Don't forget to travel with friends, and tell your stories when you take a break; savour the life you share with your bike.
Ride on, brothers and sisters.
Cheers,
Rick Dobbie
Your Harley Story
Dennis,
I have loved Harley Davidson since I was a little kid as my Daddy had several over the years. He started off with one, for himself, that he rebuilt from the frame up, that was rescued from a "spare parts" heap in the back room of a repair shop. Once that one was complete, he purchased another forlorn relic from being junked, that he promised my mother he was going to rebuild then sell. Unfortunately, according to my mother, he felt no one would treat this restored machine with the TLC he would so it was put with the other motorcycle. The next Harley Davidson made it into the house by way of multiple clandestine packages until one day the question of "where did the third motorcycle come from" was posed. Of course, I think my mother was suspicious before she asked, but she just gave Daddy time to be in the position of just telling what was up. This one was also going to be a rebuild-for-sale project that did not happen either. Each of the motorcycles Daddy brought home was referred to as a "winter project" as the off-riding seasons were the ones he used to work on getting each one roadworthy. Once each was ready for a test ride, my father would have to get my mother to use her car to help him get it up the bilco stairway to the outside world with a rope and perhaps a friend to guide it up the ramp to the patio. This day was always a major project with my folks bantering back & forth, trying not to put ruts in the yard with the car tires, my father balancing the motorcycle on the trip up the ramp sometimes with help – sometimes without, where the neighbor came over to take photos of the newest addition to the collection in the light of day while sharing Daddy's celebratory beer. I always thought these days were a hoot.

You see, my Daddy was a mechanical engineer who admired the way the older Harley Davidson motorcycles were built, and the simplicity of them compared to the more "modern" models of the time – 1970's and later. Additionally, his father had Harley-Davidsons before he and his wife had any children, putting literally thousands of miles traveling cross-country multiple times in the 1930's. According to what I have been told, those were the days when you could just pull over to camp by the side of the road! My grandmother must have been a nonconformist to ride a motorcycle then. They kept a diary of where they traveled, which roads they took to get there, where they stopped and how much was spent on things like gas, lodging, and meals. A dream of mine has always been to try to follow at least one of these routes as closely as possible to see if any of those places are still there and compare how much the costs have changed. My grandfather passed on his love for Harley Davidson to my Daddy so that when the time was right, my Daddy decided he was going to have one for himself.

This pattern of purchasing an older motorcycle to save it from whatever catastrophe it was subjected to at the time, be it: going to the scrap yard, being used as a spare parts supply, corroding in a garage, turned into a chopper, etc. continued as noted above until my father accrued 10 machines! They ranged in years from 1943 through 1983. These he kept for many years, taking turns to ride each one depending on his mood until he was in his 50's and decided that it may be the time to pick a few favorites and part with the rest. He passed away in 2017 and left me a 1946 (which has been sold to a friend of his since), 1956, 1973 & 1983. My plan is to keep the 1983 but the others I am trying to sell; despite being in running condition at the time of his death none have been started since Daddy has been gone. Unfortunately, for many reasons, I was not able to glean any mechanical knowledge over the years from Daddy so I have no idea how to work on these motorcycles to get them in running condition again which is why I am trying to sell the 1956 & 1973 models.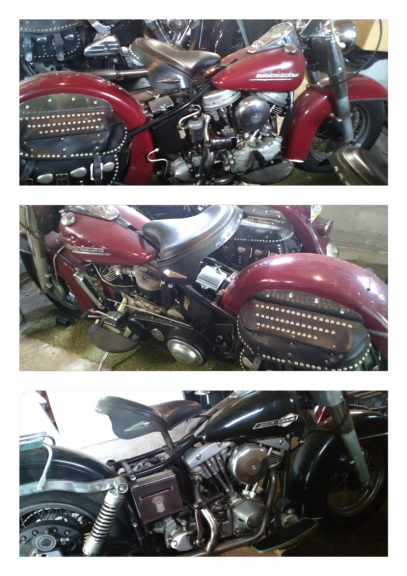 There are many fond memories of the times Daddy would take me with him on his Harley while I was growing up. He also traveled local and long distance to different events with friends on the motorcycles he so lovingly rebuilt. Some of my favorite memories are those where we rode to a small, private airport where antique bi-wing, WWII, and sail planes are flown, so Daddy could put aviation fuel in his motorcycle tank. At the time this was the only leaded fuel still available for models originally built to run on leaded gas – when we would get home Daddy would enthusiastically exclaim, "ran like a bear" when asked about the quality of his ride. This gives me warm fuzzies to think of it even now because he was just as happy as a pig in a mud hole on those days.

When I was about seven, Daddy bought a little 50cc mini-bike for me to learn how to ride a motorcycle. I spent many hours riding around the yard or following him on trails in the woods with this little bike. Around my thirteenth birthday he brought home a Harley Davidson Hummer for me to learn how to use a clutch. I was ecstatic to have my own Harley, no matter how small, to ride as I did the mini-bike (wish he had kept that small Harley as it really was a cool little bike).

When I was 25, Daddy encouraged me to get my own motorcycle license then lead me on many rides to enable me to get driving experience under my belt. He purchased a 250cc for me (although I had to pay him back for the bike and minor repairs) to start riding on my own which I did as often as I was able with Daddy, sometimes in groups, and solo. In 1999, I sold my 250 then went to a local Harley Davidson dealer to put in my order and ponied up the deposit for a 2000 883 Hugger – I was so excited to be FINALLY getting my own Harley Davidson as I had been riding a foreign model. Unfortunately, I lost my job due to a company reorganization, necessitating cancelling my order and getting my deposit returned from the dealer about 3 weeks later. I cried like a baby the whole time, but the dealer was quite sympathetic and told me to return when my situation improved. Due to the economy and the city I lived in, this did not happen. It took the death of my beloved Daddy before I was able to realize the dream of Harley Davidson ownership by way of inheriting the four he had left behind, although this is not the way I would have chosen for myself, and I took a small portion of my inheritance to purchase a 2002 Dyna Low Rider with very low mileage. This past year has been exciting for me to get back into riding as I have not been able to do so since 1999! As I said, I plan on keeping the 1983 Softail because it is the most modern of Daddy's motorcycles and I want to keep at least one of the machines he rebuilt from the ground up. As the 1983 has been sitting in the garage I'm sure there is plenty that needs to be done in order to get it running properly again.

I plan on riding as long as I am physically able as my Daddy did before me, in loving memory of him and all the fun times we had together sharing the wind in our faces on whichever Harley Davidson he chose to take out on that day.
Thank you for your time.
Amy Wojcik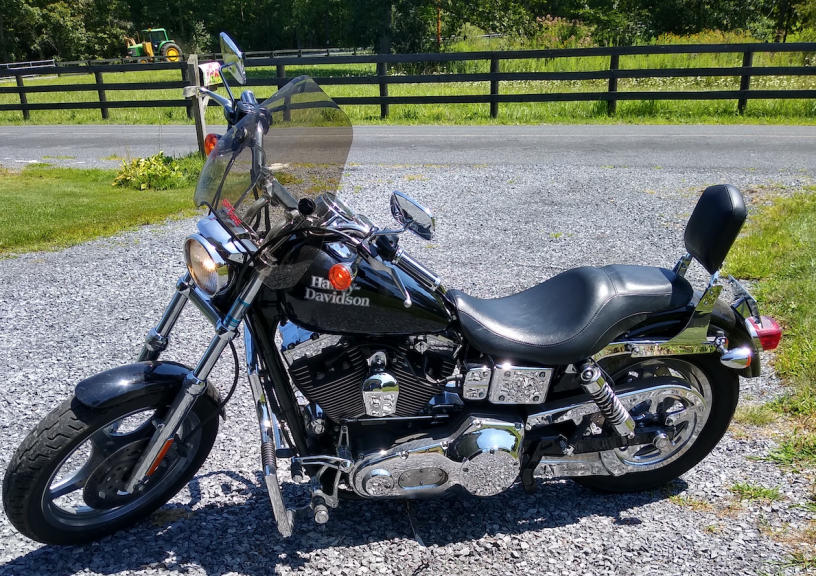 Your Harley Story
In 1971, about to be drafted for the Vietnam War, I decided to enlist in the marines and fly helicopters. About a week before I was set to report to boot camp, I was headed out for a Saturday night ride. I was riding a 1969 Sportster at the time. Riding by myself. I was going about 45 mph on a highway approaching my small Texas hometown. A 1965 Chevy pickup being driven by an old coot pulled out from a driveway straight into the side of my bike. I was thrown off and landed hard on my back. It hurt, but that was not my first concern. I could not feel or move my legs. At the hospital, the x-rays showed compression fracture of three vertebrae in my back. Thankfully, I recovered full use of my legs, but I was in a back brace and moving real slow when I got out of the hospital. I did not go to boot camp and was not drafted.

My bike was beyond reasonable repair. I did not even try. By the time I was recovered and ready to go back to work, I had hooked up with my prior girlfriend from high school and the next thing I knew, I was married and going to college. I ended up getting a BSA Rocket-3 that I slightly modified: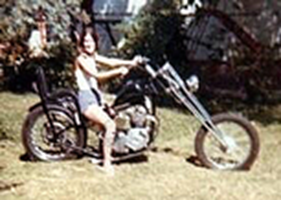 I did all the work myself. Believe me, in those days without internet, sourcing parts for a custom anything was a tough chore. I didn't like the three little carbs on the Rocket-3. Very hard to keep synced, and sometimes would lean out and blow a piston. So I hand crafted a copper intake manifold mounted a Mikuni on the thing. That bike was a screamer.

I went to law school. While there, I worked for a lawyer whose first name was Harley. Seriously, his real name was Harley. Harley's farther was also a lawyer. The father had ridden a lot in the old Knucklehead days but by 1970 he was just tooling around town in a white Rolls Royce Silver Cloud. But the son, Harley lived up to his name. He had some old Harleys in his garage, including this one Sportster. Harley and I would occasionally get together on a Saturday afternoon and drink a couple of cold ones and work on bikes. One day he had come over to my house and my wife came out when we were finishing up some work on his sportster. He and my wife started joking around and somehow he bet her $100 she couldn't ride his sportster around the block. She is not a big husky woman but she is spirited. She jumped on the bike (it was already running), popped in in gear and away she went. Her motorcycle experience at that time was limited to a Honda Moped and a small Yamaha dirt bike. We sure enjoyed that $100.

Harley also had a panhead with a sidecar. One day while I was wearing my new suit, white shirt and tie, Harley said we needed to go see a client. He stuck me in the sidecar and off we went. We were flying along a street, went over a hill and started down toward a train over-pass. That's when we saw that a repair crew had blocked the road for some repair. I yelled something and Harley slammed on the brakes and screamed something back. Somehow he got it stopped but it close. No surprise, the client Harley need to go see was actually a bar. After a few cold ones, we left to go back to the office. As I gracefully got back in the sidecar I heard a loud ripping sound as the pants of my new suit ripped open. Fortunately, there only a few guys out in the parking lot who saw my situation. I'm sure they were appropriately sympathetic.

Later, I sold that Rocket 3 and didn't ride again from 1975 to 2016. By that time I had a knee problem with my right knee and couldn't hold-up a full size bike. I tried some test drives but couldn't trust my knee. So I gave up on getting a bike.

In 2016, I bought a well-worn and tired 1987 Electra Glide to work on. I have kept it ALMOST stock, except for the 96 cu. in. S&S that I just built with Super E carb and Andrews EV-27 cam, a Baker 5 Sp. with reverse, Mystery Designs IRS trike kit, custom dash I designed and built, and EFM Autoclutch. I just got this thing together yesterday and went on a short ride. Great to be in the wind again.
Don Mills

Your Harley Story
My Harley Davidson is sitting in my back yard locked to the back door railing. I bought it about 16 months ago as a project and I did some work on it. I have not been able to get it to start and run. There are other things going on in my life that have required the bike to take a back seat. I have been riding motorcycles since I was 12 years old in 1963. From the age of 16 I have owned a bike or had the use of one. Riding has been a part of my life and my identity, even for years when I was out of circulation and couldn't ride. It was always in the back of my mind that I am a rider, as well as a boater, a handyman, and whatever other handle I could hang on myself.

The 1973 Sportster waits patiently for when I can turn my full attention to it, once the burning desire to ride returns, as it generally does. I might even take it to a real cycle mechanic and have it put into good riding order. I will remember that the 21st century is in full swing and that most of my friends who ride have suffered compound fractures due to brain-dead distracted motorists. The ubiquitous "smart" phone is also out there on the road, like that idiot in the Allstate commercials. Nevertheless, I intend to ride again when all my ducks are in a row and the planets line up auspiciously.
Chris Mark. 1973 XLCH with Electric starter added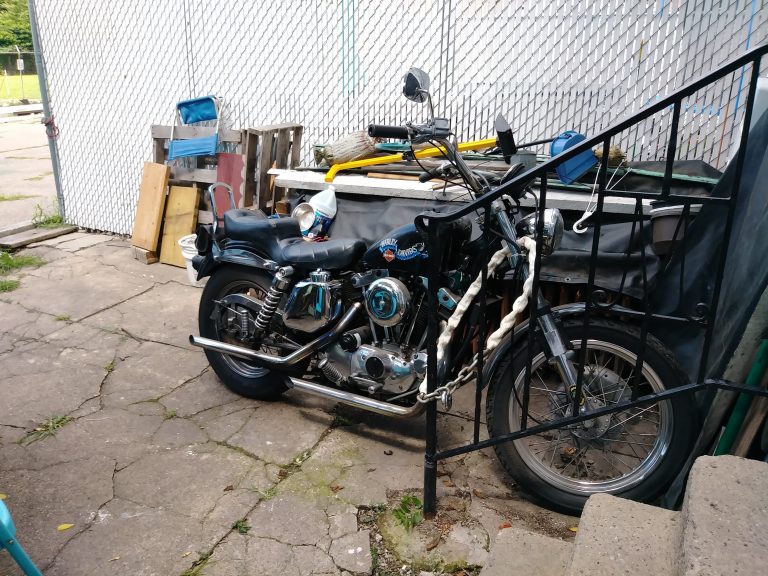 Your Harley Story
I suspect my first experience with a Harley was on a three wheeler ridden by a grandfatherly policeman who stopped in front of our house. I walked closer to get a good look and he smiled, knowing I was more curious about the cycle than about him. I later learned he was a fishing buddy of my father. He had stopped to arrange their next trip. I was fascinated by the sound of that machine. He let me sit on it and I could feel the rumble and the power. He would stop by a couple times a month to see dad and entertain me. So I was hooked on Harley at a very young age.

When I graduated from high school my welder apprentice wages did not provide enough funds for both a car and a motorcycle. So I had to be content with borrowing cycles from friends who wanted to drive my car. First the 59 Olds convertible, the was a sweet ride, then the 62 Polara, Sweet, bucket seats, HP big block, dual exhaust. It was fast. Shortly before a hitch in the army I gave up the welding apprenticeship and got a job at a Chrysler assembly plant making three times the money. I came home and bought a bad ass Road Runner. Had it dyno tuned and it was hot car. Several friends wanted a chance to run it through the gears so we would swap bike for car and I got to ride their cycles. Then I got married and started a family. So there was a long stretch where the best I could do was borrow a friends bike but it was okay with me.

By 1990 the kids were grown, the wife was in college and money still was not overly plentiful so I learned there were places that rented cycles. So when we went on vacation, I would deliberately get us close to a place that rented. She loved to ride with me on trips. WE rode classic softtails, sportsters, road kings and love them all. We cruised all through the Ski area in Utah near Salt Lake City. There were rentals in Florida, Tennessee, and Nevada that provided us a fantastic cycling experience.

Then one day in 1999 she came to me with a check for $1500 and said I should use it to make a down payment on the Harley of my choice. Now there's a keeper if ever there was such a wife! She had been saving up just for me. Wow. So then I had to choose. Of all the bikes we rented I just could not decide. So I went to the dealer in Janesville, WI and just walked back and forth looking at all the bikes. Then I noticed a red 2000 Road King and it just struck me that it was a really good looking bike. But it was already sold. Then a blue wide glide caught my eye and I loved the lines of it. But as much as I like the blue, I thought it would look better with the red from the road king. So I chose to order a wide glide in red. When I walked into Petes office I must have had a big grin on my face because he didn't utter his usual greeting. Instead he asked, "What are you up to today?" I had been there several times and spoke with him regarding all things Harley and would usually show him my newest shirt. He said, "You didn't get a new shirt, did we not have a new design for you?" I laid the check on the table and said, "Today, I'm putting this down on a new bike". He blinked, then smiled and said, "Well, it's about time. Let me grab my sheet".

I had them install a small sporty windshield, screaming eagle mufflers and carb kit. It was a Good Friday when I picked up the bike. It was the BEST good Friday I ever had. My dream ride was a tour of the Smoky Mountains. We had cruised through by car twice when the boys were young and I really wanted to do it on the Harley. In the meantime I rode that bike all over the place. I live in Southern WI so there are numerous incredible road trips within easy travel of my house. If you are ever in southern WI go to Monroe for some fantastic swiss food, cheese, and beer then head to New Glarus and run the roads west of there. Or head to Richland County, oh nuts almost every county has fantastic hilly, curvy roads. Milwaukee can be a nuisance to ride through but they have that incredible museum there. It is well worth a look.

With that wide glide I have attended two Rolling Thunder runs to the wall, one trip to Chattanooga for the Trail of Tears and twice I have cruised the full length of the Blue Ridge Parkway. The first five or six years I averaged about 12000 miles per year. But then in 2006 my wife began having trouble with Multiple Sclerosis so I couldn't go as often as before. The bike now has 85,000 miles and it has been trouble free for the most part. One time a wire, one lousy wire, came loose from the stator and stopped charging the battery. Later I had a shop replace the bearings in the front forks. Those are the only times she needed to visit the dealer. I replaced the brakes myself and a friend swapped tires for me as needed. It has run perfectly through scorching hot weather and even got caught in a snowstorm one time but it always ran perfect. Coming back from one ride to the Smokys, I encountered freezing drizzle with bits of hail. That was down right scary. I pulled under the hood of a bank and was just sitting there thinking I need to get to a safe place, hoping the freezing rain would turn to rain and wash off the ice. A cop pulled in and looked at me as if to ask, "What are you doing?" I pointed at the sky, then at the ground. He nodded his head yes, rolled down a window and pointed. "There are several hotels within walking distance, if you have to you can leave the bike next to the building. I'll gladly ride it to my house and keep it safe for you." Got to love a cop with a sense of humor!

That bike has been like a faithful companion to me. Any time I'm feeling blue, I can fire her up and instantly I'm feeling better. Get some wind in my face and all my troubles melt away.

In 2003 I spent three weeks just putting around on the Blue Ridge Parkway. I met a lot of really amazing people there by taking the side roads down to get gas or food and to camp for the night. That was my dream trip. It was amazing.

This photo is the bike loaded to go camping, There is a T-bag on the backrest and the blue thing is my tent. That was all I needed for my three week trip.
Michael Bender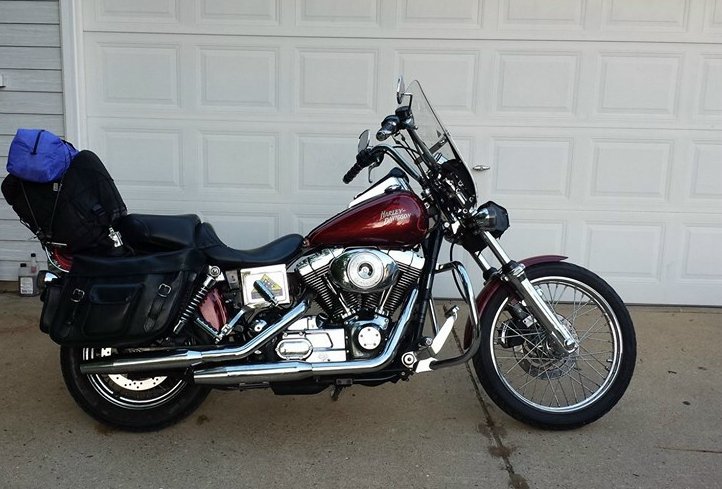 Your Harley Story
Hi Dennis, I've been riding since 2000. After going to a summer outing in Port Washington, WI and seeing a parking lot filled with motorcycles, I remarked to my wife, maybe I should get a bike – maybe a Honda or something like that. She promptly shot back, if you're going to get a bike, it should be a Harley.

I bought my first bike, a 2000 Harley Davidson Sportster 883. My first few miles were up and down my street to gain confidence and build skill. I moved up to a 2004 Road King Classic in 2005. My cousin Gerry, rode with a group in the North Shore and invited me to join the Sunday morning rides. We'd meet at 9:00 and by 9:30 we'd be on the rode for an adventure. Frank would lead the group and take us around the many scenic and rustic roads of Wisconsin. North, South or West, Frank knew all the roads and out of the way restaurants. Small state highways, country trunk roads and not much time on the freeway. We'd stop for lunch, tell stories and then head back. We have all become friends and share the love of the open road and riding our Harleys. I really enjoy these Sunday morning rides and comradery.

Fix My Hog has been a great source of information and service tips. I was a mechanic in the National Guard and that training has helped me maintain my bike. The service videos have been a great resource and tutorial when it comes to clutch adjustments, fluid changes and all around maintenance tips for keeping my Road King in tip top condition. Thanks!
Earl S. Sadowsky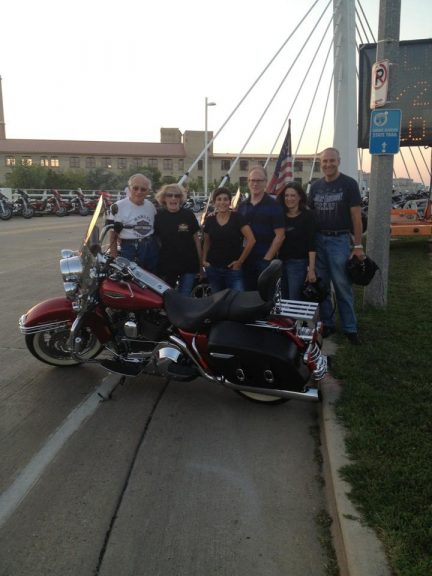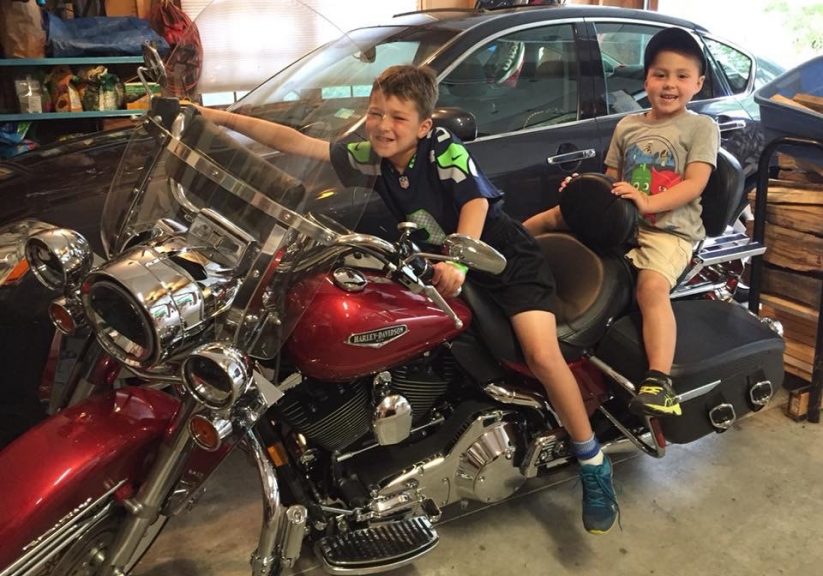 Your Harley Story
I was raised in an orphanage in South Africa in the 50s. It was St Mary's to be exact in Johannesburg !! In brief, every year members of the wealthy would put together Christmas's functions, This particular year the Hells Angels Africa came and put together a ride and came with gifts, loads of Bikes , men and woman patched up mean looking, yet genital.

My friend and I politely knocked over 4 or 5 bikes, this terrified us !!! Yet these big dudes comforted us and simply picked up there bikes and gave us rides and toys and a huge party, it was awesome !!!
This instilled a love and passion in me for Two Wheels. My collection through the ages have been a 1200 Sporty, a Heritage Softail , a Road King, and now a M8 Street glide and all my boys x4 have owned Harleys
Deluxes, Vrods and Dynas
It's in the Blood! I now am the President of Chariots of Light Gold Coast ( Australia ) and making the passion go on.( check us out on Face book)
Trust you love this short story
Regards
Tony Walter -Girout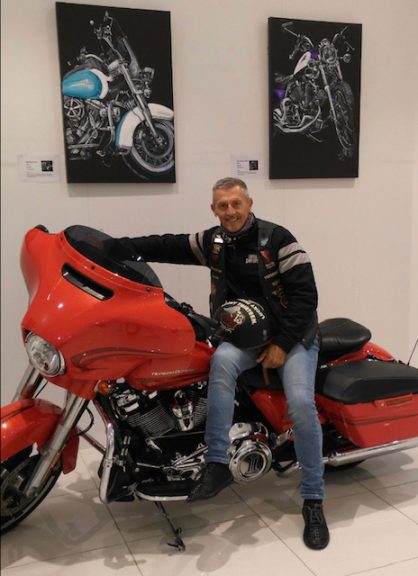 Your Harley Story
Dennis,
I started my love for Harley Davidsons and motorcycles when I was just a young boy. My dad said I always love his motorcycles. I would sneak out to the garage at night and sit on it and pretend to be riding. My father and uncle would take off every week when they could and just ride somewhere. My family grew up fairly poor dad was a Vietnam veteran from the marines he left the corps to give momma the family she wanted.

Dad became a truck driver to try to make ends meet. Then my brothers and i came along. Dads motorcycle broke down and things in life came along where dad had to sell it. Now that I became a adult I followed dads foot steps to the marines. I ended up serving 10 1/2 yrs and was injured in Iraq. During that time I met my wife. Her dad was a Harley rider and got in some trouble. While he was away I keep his 94 eco springer on the road and running great. He then came back and took the bike with him. He did for taking care of his love gifted me a 1972 shovel head hydro glide. I have the engine, transmission all re built. It has a kick start on it and no matter how hard I try I can not get the patterns or process down to kickstart it every time I try to ride. Not sure what's going on with it but would love to get it and keep it on the road. Hoping to pass the love of riding and tradition between father and son in the family like my grandfather and my father and father in law did with me.
Thanks Mark Plummer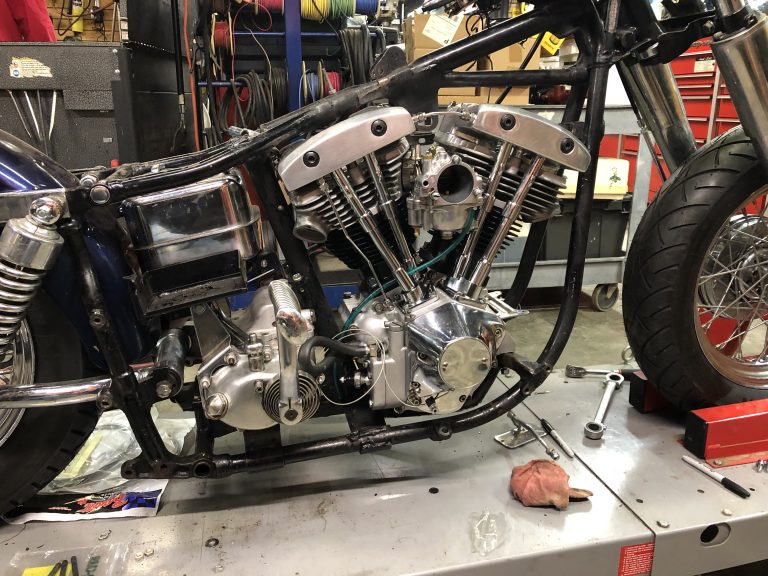 Your Harley Story
Just got my license to ride and this is my first Harley 2012 Street Glide.
Gordon Ellis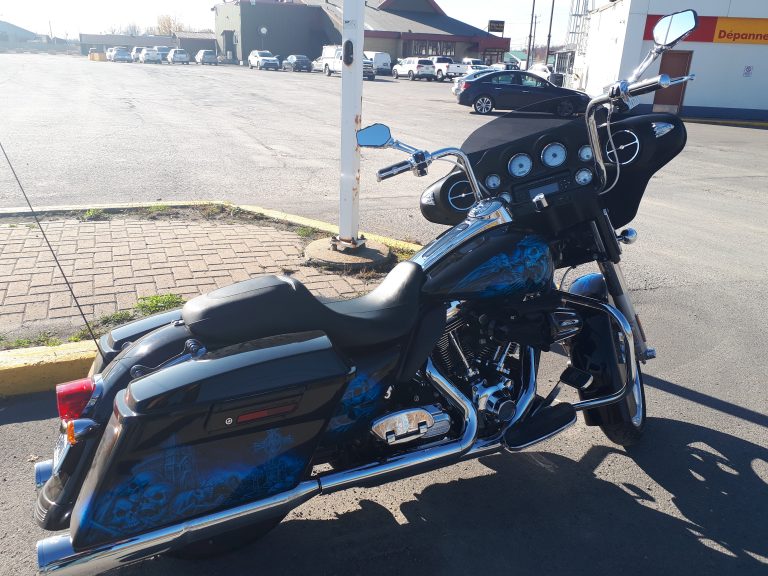 Your Harley Story
In 2003 my younger brother and I each bought motorcycles. I had a 2004 V star, he bought a homely 1992 Harley Davidson Electra Glide Classic. Jim put a lot blood, sweat and tears into his ride. Unfortunately we lost Jim 4 yrs. I lost interest in riding sold my bike.

Jim's Harley sat in a shed until May of this year when his sister in law Pam said she was thinking about selling it. I said ok sell it to me. We made a deal and now it's mine. I was a little intimidated by the bike with its weight and difference in the balance from what I rode for 14 yrs. Any time I go for a ride I always have Jim's helmet and gloves on the seat behind me. I'm very proud to be able to ride my brothers bike.
Richard Presswood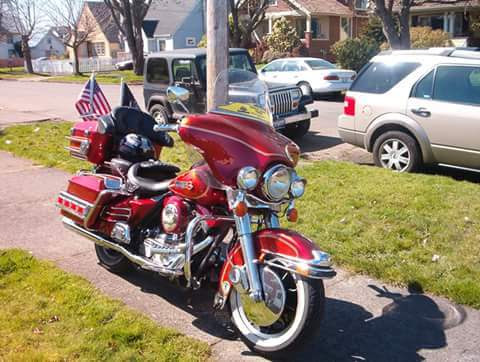 Your Harley Story
In 1984 I returned home from the Army after serving four years in Berlin Germany. The whole time while serving there all I seen was European motorcycles. I yearned to see and hear a Harley. My life long dream was to have one. One day while working with my team getting ready to go southern Germany for annual training;I heard the rumble of a Harley pull up in the court yard. It brought a smile to my face. I dropped everything and ran outside. In the yard was a 1977 Low Rider the look and sound of that shovel head was like seeing a old friend. It turned out the owner of the Harley was our new platoon sergeant . He was a veteran of the Vietnam conflict he had every badge a true warrior could have, he wore air borne wings , ranger tab and of course he also had a special forces tab. I was taken back he was a man of mans and the badass was riding a Harley. I was immediately impressed . We spent the next three years working together , he took me under his wing and taught me to be a true solider. After one of long training exercises we returned to Berlin depleted. During the next few days we worked our asses off getting all our gear cleaned up . During this period I was getting home sick and the look on me was also was all to telling . Sergeant Knowles walked up to me threw me his keys for the bike and asked me to go get it from the motor pool. I couldn't believe it I was going to ride a Harley in Berlin. The first time I was able to sit on a bike in two years. As I approached the motor pool the anxiety grew and grew. I got to the bike and fired it up drove it a whole quarter mile back to the court yard at our barracks. That quarter mile ride drove me to make a decision to save every penny I could for the remainder of my tour in Berlin so that I could return home and buy my own Harley.

In 1984 upon my return home I searched for two months to find the bike that was right for me. I ran across a lot of used beat up bikes. One day a friend came to me to tell me that his neighbor died of cancer and his wife needed to sell his Harley. I went to look at the bike the next day ,it blew my mind. It was a 1973 Sportster set up as a touring bike. My first impression it was not for me. But after thinking and looking at the bike I knew we had a future together. So I bought the bike, the man's wife gave me everything that came with the bike to include all the items he bought to maintain the bike. She even tried to give me his boots and Leather jacket. I couldn't except them and told her she would want them. In her heart she wanted to keep them but thought everything should go with the bike. We had a long talk and she decided to keep them. She was truly amazing we became life long friends. This story does not end here it just starting.

I took the bike stripped all the touring equipment off it and painted the bike. I rode the bike for the next year. During that year two things happened first I realized the bike was just to small for me and then I got a call from my old boss in the Army he asked me to reenlist. I did and with a huge bonus bought my first new Harley. My older sister loved Harley's as much as I did maybe even a little more. So that Christmas I gave the bike to her. She was dating a motorcycle mechanic and he was very talented. They stripped the bike had it all hand engraved , they also chrome it out. They upgrade it every way they could . Hubs my sister boyfriend spent every penny he had on his bike and my sisters. They were getting them ready for the upcoming shows in Asbury Park and Madison Square Garden.

During that winter my sister was diagnosed with cancer. Her bike and his was put to the side while she fought her fight of her life. She was told the next April she was not going to make it. She came to me and apologize for not finishing the bike. It blew my mind. I was so taken back that she would even think about that during this period in her life. I was being transferred back to Fort Benning GA, and was between two duty stations. I secretly got he bike from Hubs and staring working on it every waking minute I had. Finally after moving to Georgia I called my sister and asked her to come to my new home , I sent her plane tickets. Upon her arrival at my house I walked her to my garage to reveal the bike. She cried for nearly one hour. After we got that over with I walked the bike out to the street and fired it up. My sister was so weak she could barley walk. She got on the bike rode it approximately twenty yards and stopped and asked me to come help her. I rode her back to my garage and put the bike away. My sister died that August. I never rode the bike again. I transferred to five other duty stations and that bike came every where I went, but never fired it up again. Today the bike sitting in my garage with a cover on it.

Recently my son who just turned nineteen started taking the cover off the bike and asking what it would take to fire it up. I seen that look the same one I had when Sergeant Knowles seen in my eyes when he rode his bike in the court yard in Berlin. During my time in the military I became totally and permanently disabled due to my injuries. I can no longer wrench on anything and would love to fire that bike back up. My sister would love for him to have her bike. As Veterans Day nears , I can only think of my sister and that bike. You see my sister was one of the reason I joined the military in the first place. She was one of my inspirational driving force in my life. I always worked to make her proud of me. This is first time I shared this story and my time with my sister at the end of life . It was something I kept to myself until now.
Mark Kopycienski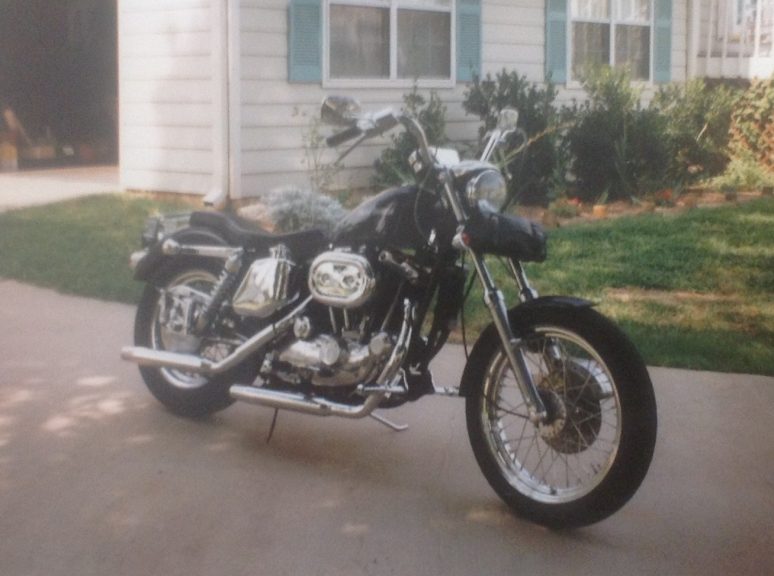 Your Harley Story
I have been riding for 45 years .lol only street From the old BSA and triumph models to the small hondas to my now ride.2013 sportster 1200c custom trike. 13 spinal surgerys and multiple other surgeries. Now prostate cancer is my new ailment. I went recently from 800 gl Suzuki intruder with Voyager kit to my sportster 1200c with a trike conversion it's like a new animal to me.more chrome and accessories it's a nice way to ride but I do everything myself I'm having fun with my wife and dog .the dog went to biketoberfest with us and did not have a good time.
Alligator41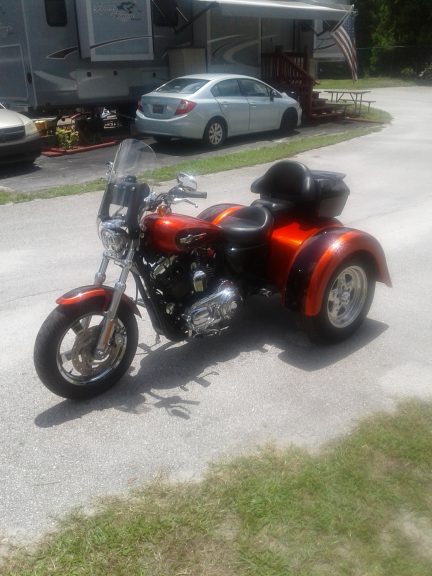 Your Harley Story
Hello Dennis, here is my Harley Davidson story. I am a 61 year old man, and father, that rides. I have been riding for over 40 years. Started riding my brother's bike. A homebuilt 1936 Flathead 45 on a hard tail chopper frame. The front end was extended 17 inches and raked just enough to keep the bike level. This was a beast to ride. Hand throttle on the right side, nothing else on the bars. Right foot was the only brake, rear at that. Left foot was the clutch. The shifter was under your left thigh, a three speed tranny. First, neutral and then second and third. One little brake light mounted on the rear fender, no front fender, one little headlight mounted from the forks. No turn signals, you had to use hand signals! A very basic bike, but a lot of fun to ride. As with a lot of older machines, cars, trucks, tractors, and bikes, you had to know the correct combination to start it. My brother and I was the only two people to ever start the dang thing. I didn't mention the kick start, I figure that one is a gimme.

Anyway my brother had gotten married, so he could move out from mom & dads as they would not let us ride much less own a motorcycle. A death trap they called it. So his new (young) wife liked to ride, and since he didn't have all the money he needed to work on the thing, I got to ride it also. For a price, that is. That was fine by me, as I loved it too. This bike was special to me, it was my little taste of freedom. A taste I would never forget.

The bike had a combination to start it, as I have mentioned before, but it was also a beast to ride. The flathead 45 was a very strong motor with lots of torque. So riding the bike you had to learn the ritual of starting and stopping. Anyone that has ridden one, knows of the ritual. Starting off was not that bad. You really didn't have to worry about choking it down, as the motor had plenty of torque. Stopping was a different issue all together. Coming to a stop had to be decided in advance, because you had to gear down before you stopped. Coming to a stop you had to get the transmission into neutral, for every stop. You had to put your clutch foot on the ground, so the tranny had to be in neutral. One foot on the brake and the other foot on the clutch, you needed another foot to put down on the ground to hold it up. If you didn't, you fell over like the little man riding the tricycle on the TV show Laugh In. lol If you didn't put in neutral, and you took your foot off the brake, you coasted through the intersection. If you took your foot off the clutch, then the torque of the engine would carry you right on through the intersection. Once you got stopped then you would have to right foot on the brake and put it down, pick up your left foot to push in the clutch so you could put the tranny back into first gear, ready to ride when you were clear to go. It was a ritual. I know I found myself slowing down long before I got to the traffic lights in hope they would turn green before I got there. When you were approaching traffic lights that were green, you had to prepare well in advance just in case they turned red. Anyway I think you get the picture.

The freedom this bike gave me is unlike any other activity that I participated in at the time. Because of the difficulty in the riding technique, you tended to ride in the country instead of the city. But you had to be careful there also as it only had a 2 or 2 1/2 gallon fuel tank. That bike was wrecked in an intersection when my brother had been out drinking with friends and a friend accidentally ran into the back of my brother knocking the bike down. Fuel came out of the tank, hit the hot exhaust and immediately burst into flames. From there we bought several other Harleys, from Sportsters to full dressers, eventually ending up with a 97 Heritage Springer Softail. This is the last bike my brother ever rode. He was run off the road by an elderly couple, less than a half mile from his house. That crash broke his back in 2 places, and broke 3 ribs. This resulted in him getting hooked on pain meds and eventually having a heart attack in his sleep, killing him at age 47. It was 6 years before I rode again. RIP bro.

A couple of months before my 50th birthday I went out and bought my own bike. A 2001 Yamaha V star 1100. Two years later switched to a 1994 Harley Davidson Electraglide Classic. I wrecked it, and survived, 10 days later I bought my current bike. A 1995 Harley Davidson Tour Glide Ultra. Now I have 2 grown sons ages 27 and 22, the 27yr old rides a 2004 Wide Glide and the 22YR old rides a 2009 Road King Classic. By the way my wife of 32 years rides also. For our 25th wedding anniversary I bought her an 883 Sportster, and for the 32nd anniversary I bought her a Harley Davidson Super Glide. My 27 yr old has 2 boys (toddlers) and they have been on Harleys since they were 8 months old. Needless to say, they will be riding also when the time comes. We are a riding family, that is carrying on the practice to the next generation, all because a brother rode. He passed the freedom to me, and I passed it on to my wife and 2 kids, who are passing it on to their kids.

I have included a couple of photos, one of me riding A1A in Florida at Biketoberfest a few years back, and the second of my family's bikes at Biketoberfest in Oct 2019. We rode down from Upstate South Carolina, about 500 miles one way. I am very proud of my family as it was the longest ride for them ever, but doing it as a family, makes it very special. I hope this wasn't too long for you.
Best regards,
Henry Donald
Greer, South Carolina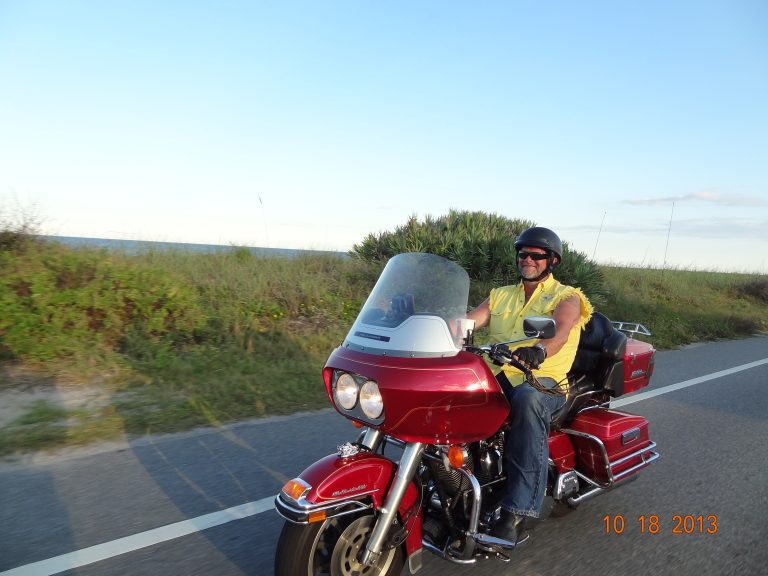 Your Harley Story
I was already locked in on a Yamaha transcontinental 2018. I went to Oakland airport to pick up someone, but was too early so I decided to kill some time at the Harley dealer near the airport. Lord and behold my favorite color appeared before my eyes (twisted cherry) fell in love and the rest is history. 2018 road glide ultra.
Alfonso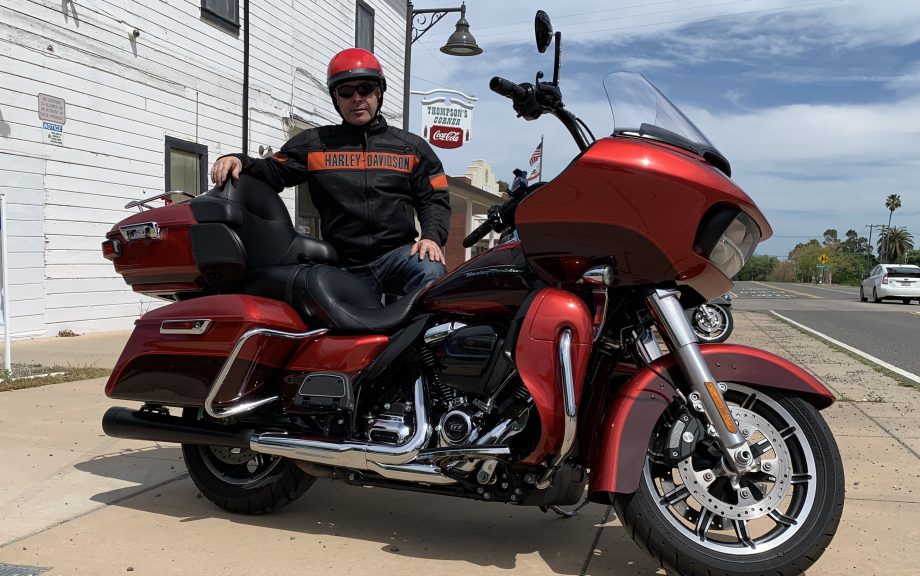 Your Harley Story
Hello, JR here..ok let's start before mx racing I rode 4 stroke dirt bikes untill i got my first 2 stroke & it was a Kx80 dirtbike then somehow got into 2 stroke 4 wheelers & raced them but first let me tell you what they were. I was 13 yrs old when I got a Yamaha 200 Blaster & not long after I wanted more power so I had a big bore kit 50 over bigger sleeve went in & all. Then found a 1988 Honda 250R wich I believe was a 1986 250R which I raced also. Which all led me to ultimately my love & we all fantasized about this & I don't mean the cute chick in the other class or shop at vo-tech & i don't mean the neighbors hot older sister I mean our real love for Harleys that never changed day in day out & thinking of it was wishful thinking when your a kid then ya graduate from school & ya saving your money for that special bike & I loved Harleys my whole life & my father & Uncle both ride & it started when they were kids with Triumphs, sportsters, kz's fatboys etc. My mom has a bike also & likes to ride, a girl friend of hers just bought a new softtail trike all Black. Alot of our friends & family ride and I have an old Black & White photograph of my great grandfather & his buddy on their old Pan or Shovelhead must be in the 1950s.

So I bought a 1998 flstf or fatboy off an old friend of the family. He is family & always felt like he was, and another Brother from our extended family which has been in an mc since early on 1980 or so. Ok back to my bike I love my bike I love older bikes & even if I financed a new one I'd have to keep my carbureted 98.. It starts with a passion for what you love & I do love motorcycles, I love working on them when I was 16 & racing I rebuilt my top ends on my 2 strokes to change piston & rings bearings etc., I'd love a bobber no rake just a classic old knucklehead pan or shovel would work for me too & the ironheads were goodies too. Man it's 30° up here in Yankeeville & I wanna go riding now that I'm digging up these memories. But I love it & want s'more of it, "live free" y'all !!! Be Safe !!!
"Waton Hota"
MLLH&R
Jr. Sylence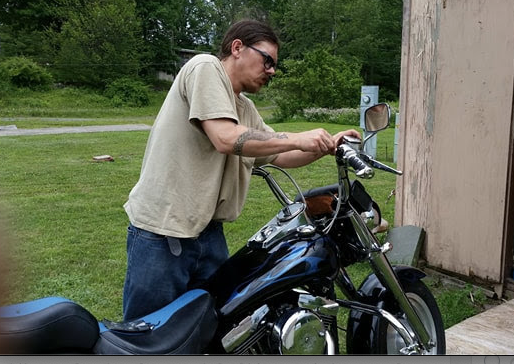 Your Harley Story
Been riding 2 wheels since purchase of a Montgomery Wards 50CC used bike since 1970. 1972 Honda 750 new. Used 1978 HD low Rider in 1979. Off for approx 10 years. 2001 Super Glide-hopped up road burner. 2004 Sportster and 2004 Road Glide new. Both performance enhanced. 04 RG with 93,000+ miles traded in recently on a 2019 Electra Glide Standard. Minor purchases since : intake, exhaust, SE tuner. 15″ windshield, 2 up seat, Sissy bar with backrest and chrome luggage rack. Planned: S&S 124″ Winter Power Package, Stereo, taller bars, heated grips. Don't care about adding chrome. Care about performance, handling, and long ride comfort.
Brian Stone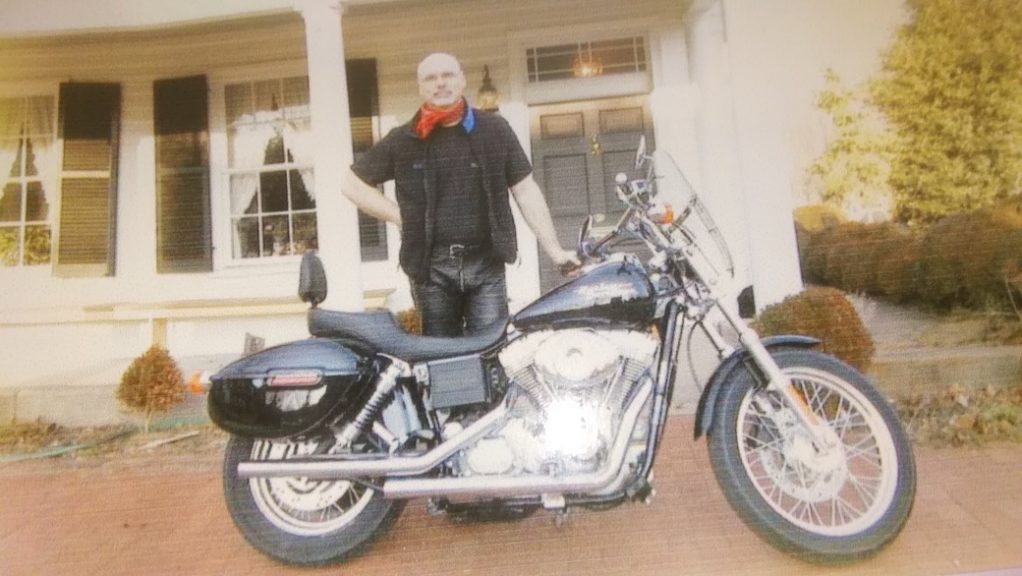 Your Harley Story
Hi my name is Dean Mitchell , I live in a small town called Dimbulah in far north Qld Australia, I have had a passion for motorcycles for as long as I can remember I owned numerous dirt bikes but always had a passion and dream of owning a Harley but thought it would never happen because of family commitments etc , in 2008 my dream came true and I purchased a brand new rocker c.

There's a 8 guys in our small town that have harleys so we get together and ride most weekends , it keeps us all sane I have put 97000 klm on the rocker and it has never missed a beat and it still feels like it's a new bike , each time I fire it up it feels like the first there's no better feeling , thanks for taking the time to read this.
Kind Regards
Dean Mitchell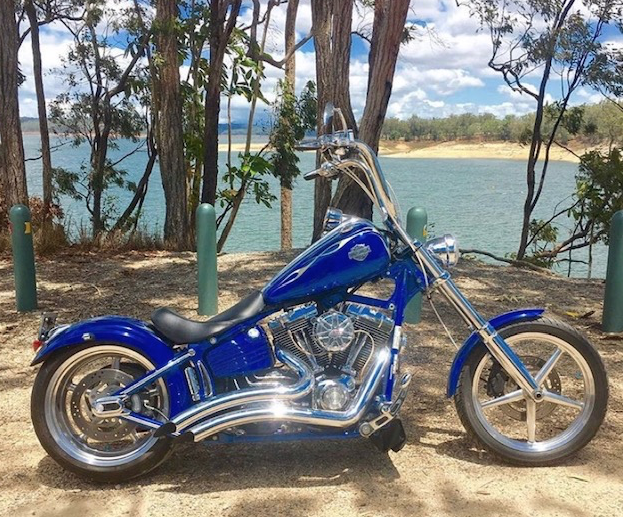 Your Harley Story
This is my first Harley ever. Been riding Gold wings, Vulcans, bikes from the 70's 100's of thousands of miles. We are about to ride in a new chapter of my life now. My 2007 Super Dyna Glide with 10,000 miles is about to get a few changes. Forward controls first then slip on's Who knows what next. I've only ridden it about 10 miles as winter is upon us. The pic is at the dealer where I bought it.
Robert E.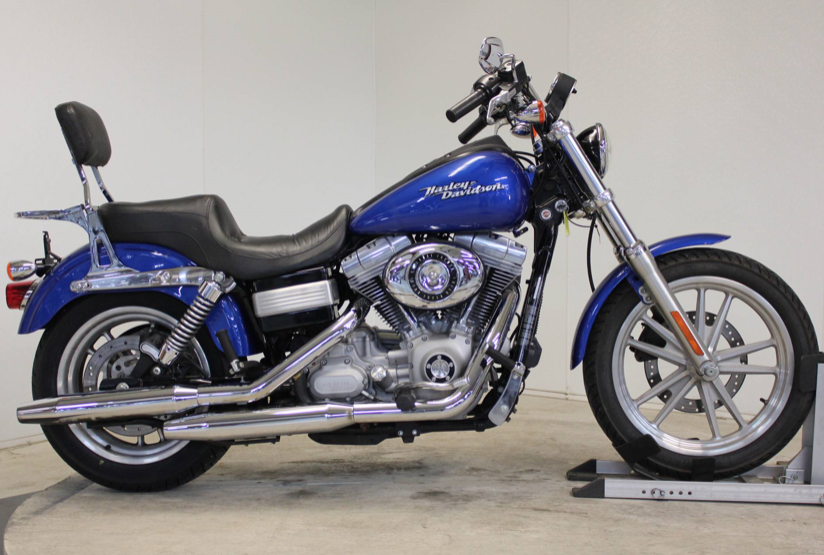 Your Harley Story
My Dad use to have motorcycle magazines from 1970s throughout the house, I loved looking at them. One of my favorite memories were seeing the Harley Davidson ads of the Super Glides. They looked really cool, always in a back street in the middle of the night. Looked like the toughest machine on Earth. I knew from that point forward that's what I wanted! I started telling people in the late 80's I want a Harley. I couldn't get enough, always looking at them in motorcycle magazines in the 1990s and started pricing them.

I remember seeing a Sportster for $4500 brand new, and realized that was something I could work towards achieving. My best friend was also a huge fan of Harleys, and hung out with bikers. Him and I always talked about Harleys. In 2009, I finally bought my first Harley Davidson. Yep, it was a Sportster 883. I'm now on my third Harley which is a Sporster 1200 Custom. I can't get enough of the machine, constantly look for moments to ride. I still think back to those first memories of looking at Super Glides. Not only did I fulfill my dream of owning a Harley, I fill I'm now part of a legacy.
Scott Palmo
Biker803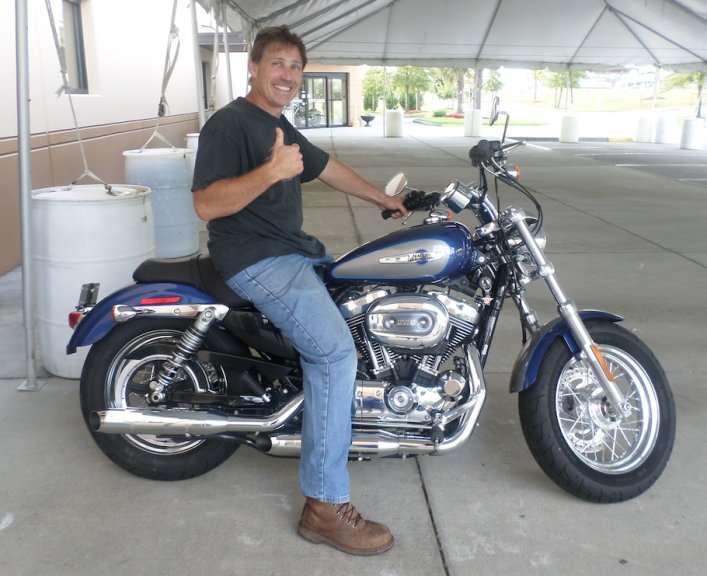 Your Harley Story
I wasn't from a motorcycle family, but in 1969 my dad bought me and my twin brother a Honda mini trail. That same year the TV show Then Came Bronson. I was hooked. It took me until 1973 when I got out of school and started working at General motors I got my 1st bike a 72 Triumph Daytona. I rode it a couple of years when I got a 53 panhead from a guy that was in a motorcycle club. I never got the itch to have a Sportster like Jim Bronson. The president of that club sold me one he had. I rode that bike for a couple of years with the club and then sold it to get a 49 panhead fixed it up sold it got a 75 super glide that I still have along with a 98 anniversary fatboy , 2011 ultra and a 2013 road king.
Tony Crist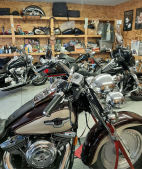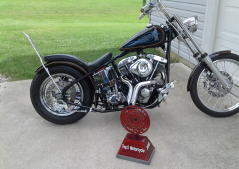 Your Harley Story
I first got uninterested in motorcycles, when my Older Brother let me ride his, since then its been off and on, own a sporty, but plan to upgrade, and give the sporty to my Daughter, she has no fear.
Brian Bursch
Your Harley Story
I purchased a 1977 XL Sporter in the early 80's. Lost in in a breaking robbery in 2007. In 2009 l got my 2nd Harley-davidson a 2003 Heritage Softail. I love it and keep inside my shop in the winter and ride it all over Alaska.
Robert Reisner
Your Harley Story
Been riding since I was thirteen, I'm 69 now road crouch rocket, dirt bikes, to street bike all kinds from Honda, Suzuki, Kawasaki, Indian and HD. Now I am riding a HD Tri-Glide 2017! When you can't hold up two wheels anymore and you still want the wind in your face; it's the only way to go! I love it!
RIDE TILL I DIE!! HOORAH!! Army proud!!
Carl Warfield
Your Harley Story
My story started about 16 yrs ago I found an fxef covered with plywood on the side of the road , purchased it brought it home gave her some tlc and she was perfect !! met a woman who wasn't perfect ! got married about a yr later filed for divorce .move forward a couple yrs .had to sell her (my bike ) to raise my daughter ..move forward thirteen or so yrs later found the woman I sold her too ,baught her back (my bike) now started a frame off restow.
Always have faith in the impossible ….Ron
Your Harley Story
I've only really been into Harley Davidsons for about 20 years, passed my motorcycle test in 1959 but road mainly Brit bikes until the late 90s then i was educated by an old Harley friend and bought my first road king in 2000. ever since then i have been a staunch Harley fan….a few years ago i sold my Dyna to buy a fishing boat couldnt make a living because of our imprisonment by the EU so i sold the boat at a great loss and after paying all my bills i had just enough to buy an old 1200 Sportster, rebuilt the engine and thats what i am riding now……..I did ride across America in 2008 stayed for a month or two just to drink some beer and have a good time, just me and two old timers we had a ball ……it was a celebratory vacation, i had just been given the all clear from cancer……..i am still riding my trusty Sportie every day, gonna ride till i die.
Pete Bailey
Your Harley Story
Hello. My story starts with my dad. He was in WWII in Germany and rode the WLA's then and there. When he returned home he bought and rode a 1948 Indian Chief. In 1952 he traded it in on a new Harley Davidson. He and mom both rode many years on it. I remember that motorcycle from my early childhood. I still have the owners manual on it but alas, he sold it. Thanks Dad, LOL

During my high school days a neighbor had a stripped down WLA in his basement. It had been flattrack raced during the 50's at Lakewood Fairgrounds close to Atlanta, GA. I purchased it from him and put it back in running condition but we never rode it. I had tried to find the parts to put it back in its military 'clothes' and since I had pictures of dads' from during the war, I was going to letter it like that one. I wasn't able to find the parts to restore it before dad died but I'm still looking and want to complete it as a tribute to him one day. Thanks for this opportunity to share my story.
Will Simmons
Your Harley Story
This will take up a couple of paragraphs because I'm gonna span almost 50 years here. In March of 1970, when I was a senior in high school I was over at my neighbors house one day after school, and his big brother, who had recently come back from Vietnam, come pulling up on this thing with two wheels and ape hanger handlebars idling along with that famous 45 degree lope. I was in love! I said "what is that called?" And he replied,proudly, this is a shovelhead! I didn't know at the time but it was a pan/shovel. 1951 Panhead with a bow legged frame, with a shovel head upper on it. Remember nobody had shovelheads yet cuz they were only four years old and nobody was buying new bikes.

Well I had a job working graveyard shift at a gas station (which I'm sure child labor laws wouldn't allow now) and I was riding a Yamaha 350, but Ieeded one of those monsters! I had some money saved up but not enough to buy a Harley-Davidson. At the time you could find running beaters for $1200, a nice bike for $1600, and a cherry for $1900-$2100. So I got to looking around and I found a guy that had a '48 EL Panhead that ran good. Some idiot had taken off the stock rocker foot clutch and made a "suicide"out of it. Dummy! Anyway I talked my mom into loaning me $300 and the guy wanted $1150 for it but I talked him down to $1050 and I had me a Harley. I sold the Yamaha for $350 and paid my mom back.

Anyway I had that bike for a year or so but being an EL it was only 61 inches so it struggled running with the 74s. So I ended up buying a 1964 FLH, had that bike for four or five years and ended up buying a 1975 FL electraglide, which I ad for at least ten years, don't quite remember when I sold it, mid to late eighties.

In the late seventies I was getting the itch to build a bike from the ground up so I started off on a project that began with a set of 1960FLH cases and a straight leg Panhead rigid frame, probably 56 or 57. I ended up making that into a 93" pan/shovel, put a lo-rider dual disc front end, yards yada. Had that bike for several years so after buying a new FXR I sold the Pan/Shovel to a friend of mine and somehow or the other he ended selling that to a couple of guys from Germany that were over here buying Harleys and taking them back to Europe, so there's no telling where that bike is now.

So of course by then HD was making belt drives and five speeds so I bought a used 86 FXR in 1987. I had that bike for about a year, I absolutely loved that bike, I couldn't believe they could make a bike that could handle like it did, it was phenomenal! Anyway I walked into the local dealer down there one day and they had this brand new 1988 FXRS, I had to have that bike! At the time I was self employed, making good money, I had gotten a smoking deal on the 86, so I sold it and went in there and paid cash for that 88. I was the first guy in my crowd to buy a new one, I still own it now. I lived in California at the time and I rode that bike to Daytona one year and it's been to Sturgis a handful of times. About that time I'm getting a little older and I'm starting to think dresser, so In 2004 I bought a new Road King, I needed a little more out of that bike so I put a set of big bore barrels on it and a set of Andrews cams just to spice it up. Since then I've upgraded it to hydraulic cam chain tensioners like they should have done in the first place. Also, during that time period I ended up with a 1968 electra glide, don't don't ask me why but I let that one go, there was a divorce and some other things going on, oh well!

So(I'm almost done) here a year or two ago I bought a 2012 Dyna, had never had a Dyna so what the hell, right? So anyway I've still got the FXRS, the Road King, and the Dyna. And just to be well rounded, I've got a Porsche 911 Carrera too, people tell me bikers don't drive Porsche's, and I say just watch me!
Daniel Morgan
Your Harley Story
I dont have a touching story like death or someone left me one but i have a story of hars work and struggle. In 2008 i wanted to get a street glide or a road king. I was supposed to get into a certain career if certain tests passed. I felt i was prepared. Did everything to prepare, studied etc.. But day off i was disappointed by opposing news. Many attempts at other stuff happened to prevent me from getting one, cash or being able to finance. Until 2016 i finally got the one i wanted by hard work and dedication. I got the same year and color i wanted. Trials and errors happen you just have to have a goal. Worked for it and now i got my baby. Not a depressing story but it wasnt just a phase its a fuck it balls to the wall life and im riding my baby like its a million bucks.
NinM
Your Harley Story
G'day to all , I first got introduce to motor cycles when I was a young child by my father and uncle , I was around five years old when my father brought me my very first minni bike , and ever since then I have had a love for the two wheels world of motorcycles. I have always had the jappers untill I was lucky enough to buy my first Harley Davidson , it only an 883 sportster 2011 super low. But never the less I am happy that it is mine. And I have only just got my red ps here in Australia as I had lost my license quite some time ago. So here in Australia I had to redo the learners an now just got the red p back! And I'm so hangin out yo to get my sportster back on the road and get some serious klm on it !!

I only wish that my father would still ride as young fella I always dreamed about going on tour with my dad as he has rode bikes most of his life , but he is no longer able to ride due to his health condition !!! But never the less I'm great full he had tought me to ride as a child !! Cheers black rubber down shine side up.
George Gee
Your Harley Story
I started riding in 1970. We Susie and I were married and we bought a 1970 BSA one lunger 442. We rode a long time on it, until it was stolen. Hearth was broken until I come across a Yamaha 750cc. we rode it till it died. Then we got a Kawasaki 850. fast as it was it was fine. We sole it. We longed for another bike .

We stopped at a Harley dealer in Georgia. I feel in love with a Soft tail on display, she was a beauty all chrome and white. I asked the salesmen if he can lower it for me we have a deal. he did.( only 5'2″). We rode off the next day. Many years great fun, didn't know why we didn't ride a Harley from the beginning. Next bike was a trike 2012, until I traded both bikes in on 2016 trike nice. Up till now. Harley is for me. Thanks Harley for a great bike.
Tom and Susie D
Your Harley Story
My story goes back to my youth in 1971 in St. John's Newfoundland Canada. Motorcycles were becoming popular. There were a lot of British Bikes, Triumph Bonnevilles, B.S.A. s, Some Royal Enfields, and a few Harley Davidsons. I was 17 and had gotten my first bike. It was a Kawasaki 350 Avenger that I bought used. I had just joined the local club.

The bike I was smitten with though was a 1967 Sportster XLCH that had some customizing. It had a 6inch over front forks, a metal flake paint job. A modified gas tank to increase capacity, a large sissy bar and very loud pipes. Starting was a ritual as it required turning the advance On the ignition, putting the right amount of fuel through the carburetor and hope that kick starter did not slip a cog. (the missed engagement always looked painful). But that bike was the coolest bike in town. I would stop and just listen to it go through town, hearing every shift and loving the sound. The bike lasted about 10 years and went through various modifications. There was another one with close to the same modifications and when the two rode together it was like a symphony of classic motorcycle sound and as well a great sight.

Later I came into my own 1977 Sportster and XLH It had the same great sound but the technology had surpassed the old Iron head motors. I put a set needle bearings through the motor and managed to rebuild the motor my self. Great memories.

I now have 2002 FXD that I have had for 11 years without major trouble. I call her Betty and she is all I need in a bike. But mind will always go back to hearing that XLCH start a mile away and hearing every shift of his journey home. The friends made then are still friends forever. Priceless memories.
Thanks for asking
Bill Strong
North River Newfoundland, Canada
Your Harley Story
I grew up in the hills of west Virginia riding dirt bikes my uncle (bob lough) always had harleys .i would go to my grand parents every sunday for the family dinner. While i was there my uncle would be turning wrenches on the bike he had at that time .i would help him by getting in the way.we spent many hours working over those harleys .one of my childhood memories was if i could start it then i could ride it .being only 13 years old my uncle thought that day would not come anytime soon i didn't weigh but about 98 #. Many of times i tried to kick start it and many times i would get hurt. Everyone would get there kicks watching me from afar.

One Sunday that summer i got to my grandparents house and like always i would go over to the garage and mess with his prized harley This day was different and i jumped on the kicker and came down on it and it fired up …i was shocked .my uncle came running out not knowing what was going on with his pride bike and saw me sitting on it twisting the throttle with a smile so wide .he saix to run her up the road and to be careful with his baby. Boy oh boy i got my first ride on his baby and i was proud .

Looking back he had started the harley and had just shut her down and was going inside to get a drink and mom and Dad pulled in just at the perfect time . I got my ride ..as the years past along with my uncle his 1995 heritage sat on a jack in the garage just waiting to hit the road im 49 yrs old now and i own the last harley he rode.

My uncle Bob looks down on his harley and me riding around with a smile on his face thinking how he has passed the tradition of the peace and enjoyment of the wind in your face and the rumble of that big twin going through the curves of wv …

Seven years that bike had sat lonely in that garage by itself just waiting to get back out on the road for another great memory . I want to thank Harley davidson and my uncle Bob for giving me that first ride.
Doug Knight
Your Harley Story
I have ridden motorcycles since 1971. Back then I rode a Yamaha 250 dirt bike. I had several dirt bikes since that 1st one. There was a group of buddies back then in high school that had bikes and we all rode together. One friend had a Harley, a full dresser 1969 that we all felt was the neatest thing around. The rest of us had Yamahas and Hondas but we all thought how lucky our friend was to own that Harley. We rode all over Iowa and Wisconsin during high school and for several years after. As always after high school we drifted apart got married and started families.

I kept my dirt bike and one Saturday morning on my way home from an errand a van pulled out in front of me, everyone knows what happened next. A week off work, the bike was totaled and I thought my bike riding days are over. A few weeks later a friend told me about a bike just like mine was for sale that had no motor so I checked it out and ended up buying it for $50.00. I rebuilt my bike and after a test ride I found myself almost coming to complete stop at every intersection. I rode it a couple times after that and it was the same thing. I decided this was no good or fun anymore so I sold the bike which was really tough to do.

Nineteen years later my wife told me she saw a motorcycle for sale a few blocks from our house. a 2002 Roadking. I went and looked at it and thought no way. I couldn't get that bike off my mind and ended up buying it. Several bikes later, all Harley touring bikes and after many road trips I couldn't believe how being on a bike made me feel. Along came arthritis and I thought again a motorcycle is going to be out of the picture. After several doctors I found a good one and he got me on a drug plan that had me feeling really good so I got back on 2wheels. One thing I learned is when I'm on the bike all my pain and troubles seem to disappear. I hope I can ride for many years to come. I still am very cautious on the bike so I guess my accident helped me in a way, although I don't want to go through that again and don't want anyone else to either.
Daniel Kohrt
Your Harley Story
I have wanted a Harley ever since I first started riding an Allstate 125 when I was 13 or 14 years old. If I wasn't riding that Allstate I was at the magazine rack at the local drug store drooling on them there Harley-Davidson's. I bought my first Harley 1200 Sporty, then traded it in on the 2003 Night Train. Just recently ran across a 2003 Heritage and being in great condition, the same color as the Night Train, bought it. My brother in law had a Heritage, but after seeing my sister in such pain after she tripped over a concrete stop block in a parking lot breaking her arm, he sold it. My cousin rides a Firemen's edition and my nephew rides a Road Glide. I wonder now, should I give up riding motorcycles, or stepping over concrete stop blocks? Ed Morris
Your Harley Story
I ride an 2006 fxdwg wide glide. This last Saturday, the weather was beautiful, so I packed lightly, and road off to see my new grandson, from Sulphur, La. to Carthage, Tx. Just on the edge of the halfway mark, a deer hit me. It wrapped my crashbar around my lower, right leg and foot, sheared a bolt off my rear brake assembly, cut up my seat cover, and broke the lock on my saddlebag. I gained control of the bike, clicked down a gear, since the engine was still running, didn't look back and hauled ass. That deer even crapped on my back fender.
The moral of this story is 2-fold: That 90,000 mile Harley is tough, and don't even think about riding without a crashbar.

It might save your leg and your life !!..
J.D. Lowin
Your Harley Story
My mother and father and my cousins mother and father were brothers and sisters which made us double cousins. We were born 15 hours apart….in the same hospital…. the same hospital room…..and by the same doctor. That's about as close to being brothers as you can get without actually being brothers. We celebrated almost every birthday together alternating between his house and my house. We started riding mini bikes and motorcycles when we were 12. Every couple years we graduated to bigger bikes. We started out with Honda's and Yamahas on gravel roads and gravel pits. We lived in Iowa so our riding time was limited to the warm months. We both wanted Harley's so bad we could taste it!! I'd write all over my notebooks in school "Sportster", Harley-Davidson, and draw choppers the best I could. The weekend we turned 18, in 1974, we both ordered new Sportsters. It wasn't just any ordinary day…..it was the day we been waiting for our whole lives. Mine was blue and his was black. We both lived on farms so when the bikes came in I used my dads pickup to get mine and he used his dads truck to get his. Since it was in the dead of winter we couldn't ride them home. We also had 8" over tubes installed on them. We were so excited we could hardly contain it. As a side note, when I went to my girlfriends house that night and told her about picking up the bikes…her response was"Oh". I had been going steady with her for over a year but within 10 minutes I had my ring back and ended it! That bike was my dream and I didn't need her lack of enthusiasm in my life.
We rode those Sporty's everywhere. We were always together just as we grew up. We made the next step up to Super Glides then and we had those for several years. We went with 6" over tubes on those, had mag wheels on them, and a couple of different custom paint jobs. Those bikes went to sturgis, and all over the place. As we got older and were married, the bikes took a back seat to raising kids and having careers. I ended up selling mine but he kept his and years later traded it for an old stock panhead. He bought a couple more collector bikes of which one was a 1969 stock Electra Glide. In 2003, I bought a new Wide Glide and he bought a new Heritage Softtail. And the riding together started again. Not as often, but we cherished every mile we rode. I liked his Heritage so much I bought one the following year. As the next few years went by we rode when we could and loved every minute of hit. We thought of each other as brothers, always had and always would. A couple years later I moved up to an Ultra Classic but he stuck with his Heritage. Then he purchased a 1949 Indian that had been restored. He really enjoyed that bike. Seemed like he was tinkering with it all the time. Every time we rode together though he was on his Heritage and I was on my Ultra. One night in August of 2009, he was wrenching on the Indian, then taking it for a test ride, then more wrenching and more test rides. I received a phone call the next morning saying that he had died the night before when his bike went into a ditch and he had been thrown off striking a utility pole. I was in shock. This couldn't have happened. We'd been riding bikes for over 40 years and there wasn't any scenario that we hadn't been through on a motorcycle. Hill climbing, ditch jumping, we had done it all. But…..it did happen and he was gone. I searched the accident scene looking for some type of evidence that could tell me why…..but nothing. We gathered about 10 friends with bikes and rode to the funeral. We led the procession to the cemetery. I cried like a baby saying goodbye. Earlier in this story I mentioned that he had that 1969 Electra Glide. I had tried many times to buy that from him but he wouldn't sell it. A year after he passed, his wife gave me that bike. I am so honored to own it. I don't ride it much….most of the time I just stare at and think of him.
Gary H.
Your Harley Story
I was driving a motorcycle science I was a kid. Now I have my Harley-Davidson 2003 Harley and I love to drive with my wife all over to Delaware. Javier.
Your Harley Story
I was the first person in my family that rode any kind of bike. Like most I started out on mini bikes, Then I had Honda's, Triumph's, Silver Pigeon, Sears Allstate and a Kawasaki. By the mid 70's I was in the Marines and picked up a 69 sportster and been riding Harleys ever since. A couple of years ago I picked up this 2000 sportster that had set for a while. I was able to put a few miles on it while I was having a few things fixed but ran into hard times so it sits in the garage. Some day it will be running again, it only has 21,000 miles on it. This will be my grandsons when I pass away, he has loved it since he was a baby.
Lenny