There are few things in this world that make it to a 75-year milestone. This number often exceeds the human lifespan, and it's certainly older than most motorcycles seen out on the road. So how is it the Sturgis Rally has made it to this monumental landmark? How could such an event not only be surviving at 75, but thriving? The answer lies in a small group of significant influencers that any rider worth his salt should get to know.

By Sturgis Riders News Blog

Meet the Player's Who Made Sturgis History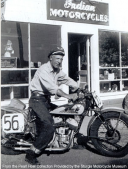 1. J.C. "Pappy" Hoel and the Jackpine Gypsies
When one peels back the layers of the Sturgis Motorcycle Rally looking for the catalyst responsible for its creation, they will arrive every time at one man and one seemingly insignificant shift: J.C. (Clarence) "Pappy" Hoel and the dawn of modern refrigeration.

Clarence Hoel was a South Dakota boy, born and raised, and growing up his interests fell right in line with that of many other boys his age. But despite being drawn to what he called "tricks, fun and damned foolishness," Hoel set foolishness aside to take on the responsibilities of running his family's ice business.

In the 1930s, electric refrigeration began to quickly eat away at Hoel's business. When Ft. Meade, one of his biggest customers, made the switch, Hoel knew that there was little future in ice.

Hoel had always loved motorcycles; he grew up riding them, had owned three of his own, and maintained he was one of the first to ever use one to herd cattle. In the wake of his dying ice business, he aspired to open his own motorcycle dealership. His request to Harley-Davidson for franchise rights was denied, but shortly thereafter Indian gave him the green light.

Hoel's Motorcycle Shop opened in 1936, and a group of local enthusiasts found themselves drawn to his charismatic personality. They immediately began rallying around both the business and Hoel, purchasing new Indian Motorcycles, parts, and accessories and seeking mechanical support. Later that year, the group officially chartered as the "Jackpine Gypsies Motorcycle Club." Since Hoel was the oldest of the 13 charter members, the younger ones of the bunch began calling him "Pappy."

Prior to club chartering, several Jackpine Gypsy club members had been participating in activities organized by the Rapid City Pioneer Motorcycle Club (RPMs). The RPMs primarily rode Harleys, which helped to spur a friendly rivalry with the new Indian-loyal club. The competition between Harley and Indian brought about the very first dirt track races between the two clubs on an old Rapid City horse track. But early in 1937, the Gypsies brought the festivities to Sturgis for good. Pappy and his "boys" brought new life to the weed-ridden, half-mile track at the Meade County Fairgrounds. This horse track had earlier been converted to accommodate cars, and racers discovered the track's banked corners allowed them to achieve higher speeds than anywhere else.

The 1937 field day drew a large crowd, something that didn't go unnoticed by Sturgis business owners. Hoping to capitalize on these guests, the Sturgis Commercial Club established an organization known as the Black Hills Motor Classic (BHMC) that officially began to manage the rally and races the following year. Membership in the BHMC was limited only to business owners, which created some hard feelings amongst the Jackpine Gypsies. But because Pappy himself owned the local Indian franchise, he was able to join and serve as liaison between the different organizations.

The first-ever Black Hills Motor Classic, held in 1938, attracted 200 participants, and that number quadrupled the following year. Many factors were responsible for this growth, but Pappy's personality was a huge component. His passion for motorcycles and charismatic nature attracted people in, and his kind-hearted generosity kept them coming back. Pappy welcomed riders into his home, allowing them to sleep in spare bedrooms and camp in the yard. He allowed them to use his tools, workspace and parts, and gave money to racers who didn't win any money at Sturgis so they could buy enough food and gas to get them to their next race.

Pappy remained an integral part of the rally for five decades. He expanded event offerings in the '50s to incorporate scrambles and hill climbs and stood up to Sturgis city fathers who proposed banning so-called "outlaws" from entering the city in the '70s. He always saw the good in everyone.

When Pappy Hoel died in 1989, the event he was responsible for starting was drawing close to 100,000, and attendance showed no signs of slowing. While the rally's success continued thanks to the efforts of many, it's likely the event as a whole would've never come to be if it weren't for Pappy's passion, dedication and mentorship to a generation.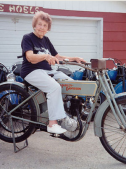 2. Pearl Hoel
It is often said that behind every great man there's a great woman, and this certainly applies in the case of Sturgis Motorcycle Rally and Jackpine Gypsies founder Clarence "Pappy" Hoel. Pappy's wife Pearl was always the woman in the background who preferred letting her husband get the spotlight, but if it hadn't been for her devotion to his dream, the Black Hills Motorcycle Classic might never have survived through its earliest days.

Pearl and Pappy met on a blind date during a community dance in Sturgis, and the two married in 1928. As a new wife, Pearl gave up her position teaching third grade in nearby Piedmont to look for work in Sturgis. When modern refrigeration began taking its toll on the family ice business, she fully supported her husband's desire to open a motorcycle franchise in their family garage.

In addition to keeping the books for both businesses, Pearl always held a job outside the home. With the exception of 1935-36 that she spent at home with her infant son, Jack, Pearl held many important governmental positions. After years spent with the Works Progress Administration, she served as Meade County Clerk of Courts, assistant to the County Superintendent of Schools, Register of Deeds and County Auditor. Outside of work, Pearl was active in her church, served as an officer in her lodge and was involved in bridge club and other community organizations. Through these affiliations she became friends with the area's key figures and their wives and claimed to have learned the names of everyone in Meade County. This level of stature lent credibility to the Black Hills Motor Classic and helped to convince the community's influential leaders it was an event they should support.

Once the rally got off the ground, it was Pearl's hard work and generous spirit that helped keep the wheels rolling. She led a group of Gypsy wives and girlfriends who worked tirelessly preparing food, sending mailings, typing programs and distributing posters. During those early years, the Hoel's pitched a circus tent in their backyard to provide visiting riders a place meet, visit, sleep and enjoy plenty Pearl's of homemade donuts and coffee.

Beginning in 1938, Pearl started an annual tradition of preparing and serving a picnic lunch for all the Gypsy Tour riders. The night before the tour, Pearl and one or two other Gypsy wives would work late into the night to finish preparations. In the morning, they would pack all the food up in Pappy's old pickup and lead the tour out of town before heading to that year's picnic location to set up. After lunch, Pearl would follow the motorcycles back to Sturgis in the truck, picking up anyone who broke down along the way.

Read About 5 More Influential Players in Sturgis Rally History

The Sturgis Rider® News is the official publication of the Sturgis Buffalo Chip®. It is the leading source for captivating content meant to excite, entertain and inform motorcycle and music enthusiasts. Exclusive news about concerts, bike shows, rides, travel tips, contests and more is published and emailed every two weeks. It is FREE to subscribe. More details are available at www.SturgisRiderNews.com