Here's a pic of Big Red, did the cam shoes and just put on that sweet V&H pro pipe! Just want to say Fix My Hog is awesome! I get a lot of satisfaction doing this work myself and the videos help so much. Had a hard time finding information on when to change newer cam chain tensioners shoes. See pics, they were due, outer was good but inner was another story. My bike is an '09 FLHTC with 78,311 km, 48,670 miles. Wanted to share for other members.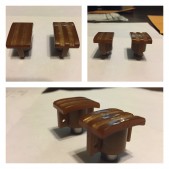 When people ask who did the work on my bike I always say, FMH and me!
Keep up the great work.
Kevin S.