Motorcycle lighting is often seen as an unnecessary upgrade. It can, however, be one of the most impactful upgrades that a rider can make on their Harley. A lighting upgrade will not only increase your quality of vision, but it will also make you more visible to other motorists. Several Harley Davidson headlight problems exist for riders looking to make this upgrade is that there are so many different options to choose from, including halogens, HID's and LED's. On top of that, there are even more factors that can give riders pause, like what are the necessary modifications and what are the performance gains of each type of lighting upgrade. Wading through all of these options can make you just want to give up, but there is a simple solution.




To cut through all of the hang-ups, Kuryakyn has developed the Phase 7 Headlight and Passing Lamps. With the Phase 7, you will get the best possible DOT approved lighting on your Harley with a plug-and-play installation. The Phase 7 is an LED set-up that produces a light that completely outshines the performance of any conventional halogen or even an HID bulb.

The main advantage of installing the Kuryakyn Phase 7 Headlight and Passing Lamps is, of course, the quality of light that is produced. The light that is emitted is a nice, even white light that truly illuminates the road ahead of you as if it were daytime. In fact, the Phase 7 Headlight has a color temperature of 5,800K, which is very similar to the 5600K average color temperature of daylight at noon. The lens is made with a non-yellowing polycarbonate so you never have to worry about the light turning yellow over time.

The even light of the Phase 7 is in part due to the bulb-free Complex Reflector design of the headlamp. Standard incandescent and Halogen bulbs emit a light with a more rounded and inconsistent edge due to the bulb shape. The lack of bulb in the Kuryakyn LED lights allows them to reach out further without the sharp drop off that is seen with halogens and incandescent bulbs. You no longer have to strain to see past the edge of the light. One of the biggest benefits of switching to the Phase 7 LED lights is the lower amount of current that is drawn from your bike while in use. The LED low beam will draw 1.5 amps, whereas the stock halogen draws 4.9 amps. For the high beam, the LED will draw 2.3 amps compared to the 5.5 amps from stock. This will free up precious power for your accessories along with other motorcycle electronic requirements. The lower amperage draw will also help to prolong the life of your Harley's alternator.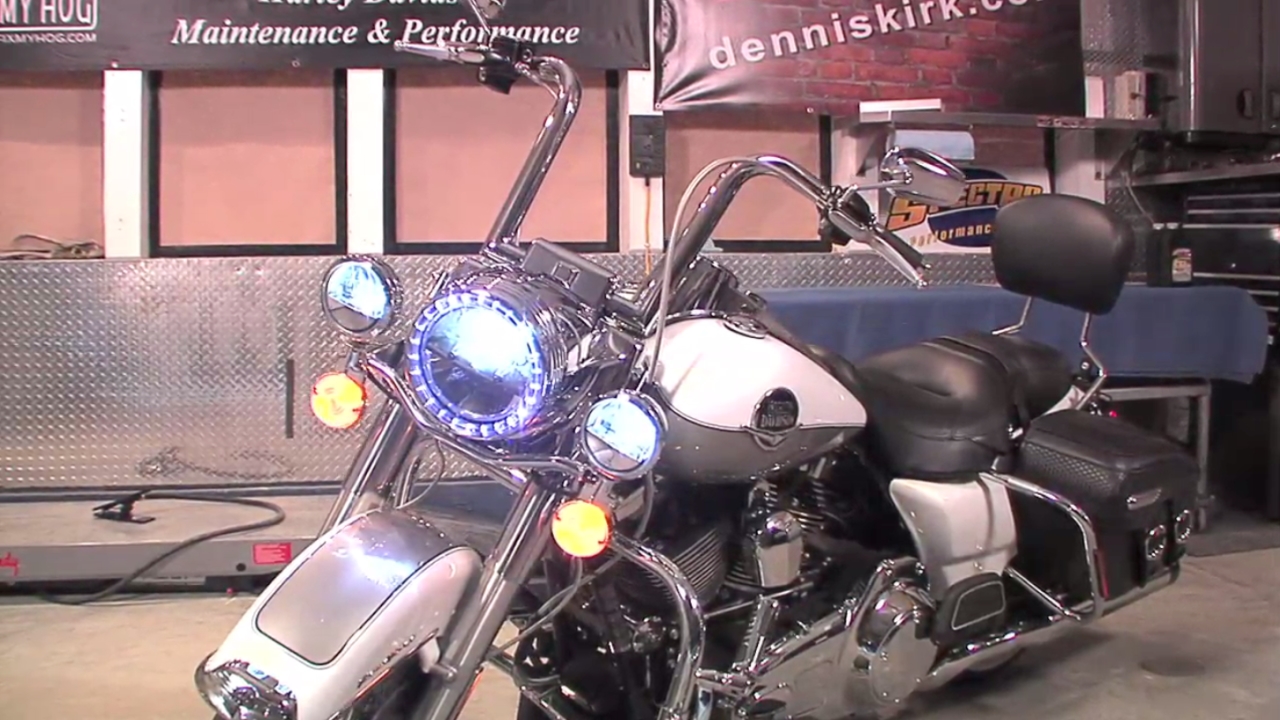 Because the Kuryakyn Phase 7 lights are a solid-state, bulb-free system, they are incredibly durable. Halogens and incandescent bulbs are susceptible to damage that is caused by the motorcycle's vibrations and shock absorption. The solid design of the Phase 7 can withstand far more shock and vibration because there are no filaments that can break. This added durability is one of the reasons that LED's have a much longer lifespan. If looks matter, these are the right lights for you. The Phase 7 kits are a direct replacement for your Harley light and even keep the same sleek design. If you want to really set your bike apart from the rest, you can add the Kuryakyn LED Halo Trim Rings. The Halo Trim Rings are easily installed to the headlight and passing lights and add a stunning halo effect to your headlight that is sure to turn heads both at night and during the day. Installation of the Kuryakyn Phase 7 headlight is incredibly simple. The only tool that you need to get the job done is a trusty Phillip's screwdriver. There is no need to splice any of your existing wires. The Phase 7 lights are truly plug-and-play and will connect right to your stock system as they use the standard H4, 3-blade wiring connector. For a complete installation tutorial, check out the Fix My Hog video.

The Phase 7 Headlamp and Passing Lamps along with all of the great Kuryakyn Harley parts can be found at DennisKirk.com.

Product Review Video here on Fix My Hog:
Click Here

Installation Video here on Fix My Hog:
Click Here