History/About
Founded in 2005, Aquatic AV was quick to establish itself as a benchmark in reliable, great sounding waterproof 12V audio equipment. Ten years later in 2015 they released their first Harley-Davidson® Motorcycle stereo, as a replacement to the often underwhelming Harley factory stereos.
Bluetooth enabled, with a powerful amplifier and compartment to safely store Smartphones and MP3 players, their first Harley stereo (AQ-MP-5BT-H) duly won a number of accolades and was hailed by Baggers across the land as the answer to their long-standing factory stereo complaints.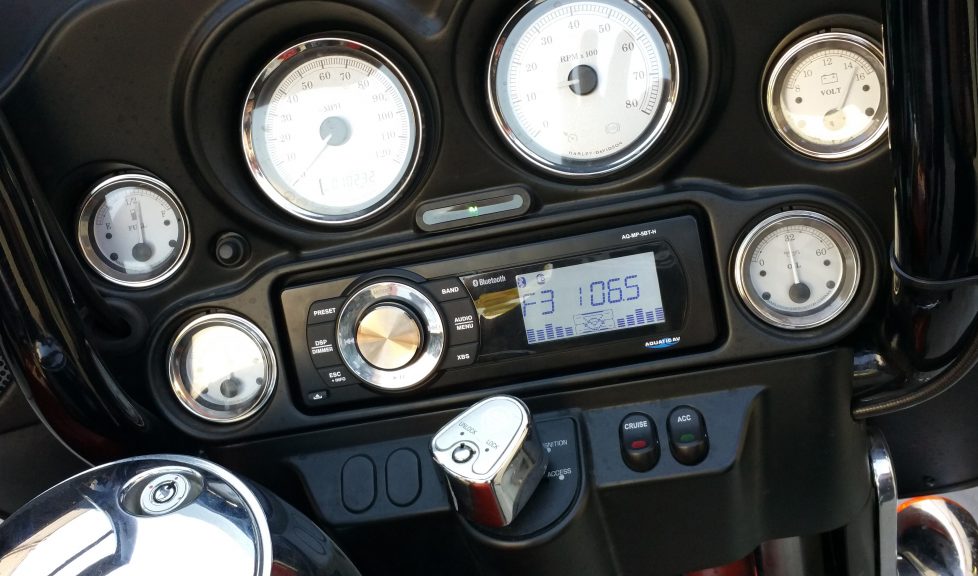 Aquatic AV's 2017 product line now looks better than ever with the addition of a new SiriusXM Satellite Radio compatible stereo including full color screen, album artwork and clock display modes, plus some seriously cool high-performance speakers.

Why Upgrade?
The first thing you'll notice listening to your new Aquatic AV Harley stereo is the difference in volume – Aquatic AV products are loud by design! After you've stopped smiling at the thought of getting out on the road with your favorite tracks you'll also notice the quality of the sound is greatly improved, with clearer vocals, soaring guitars and beating drums grabbing your attention just like they should do! These things even sound great when you're travelling at speed!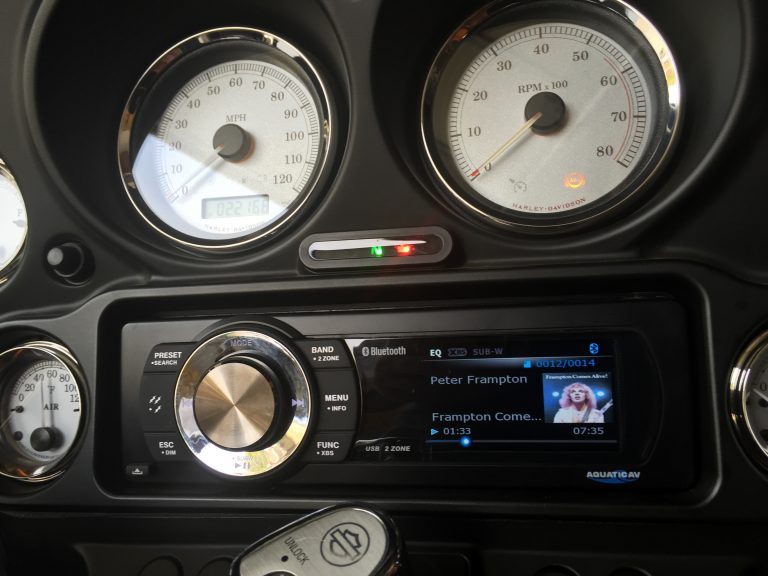 Connectivity
Assuming you're not using CD or vinyl to play your music these days, at least not on your bike, you're likely to have joined the digital age and use your phone or MP3 device to store and play your music. Aquatic AV has it all covered with wireless Bluetooth ready stereos as standard, plus USB connections to connect directly to your phone or device.
The latest stereo (AQ-MP-5UBT-HS) actually features two USB connections; the first is located within the internal storage compartment, to provide connection, charging and control of your music from the stereo; the second USB connection is located on the rear of the unit and provides charging of your device only. They also include a flush-mounting USB socket so this rear USB connection can be accessed without removing the stereo. You can also connect your Smartphone or MP3 device directly with a standard 3.5mm stereo Jack cable or via stereo RCA (phono) connections. Always with one eye on sound quality Aquatic AV provide high-voltage (4V) pre-outs, maximizing every decibel possible into an additional amplifier, should you so wish.
The new AQ-MP-5UBT-HS model features standard AM/FM radio and is also enabled for the popular SiriusXM satellite radio service. You'll need a SiriusXM vehicle tuner and paid subscription to SiriusXM in order to access the network, but once you're there you can chose from over 170 stations.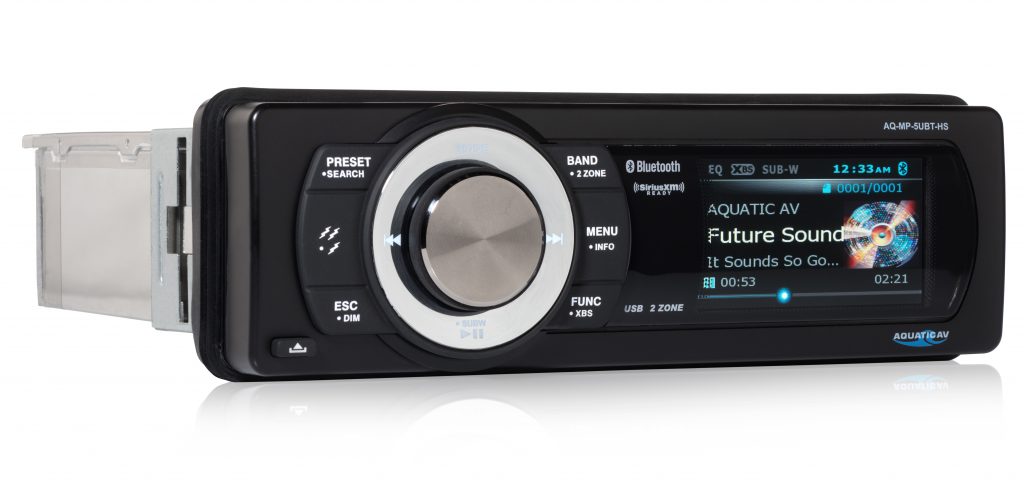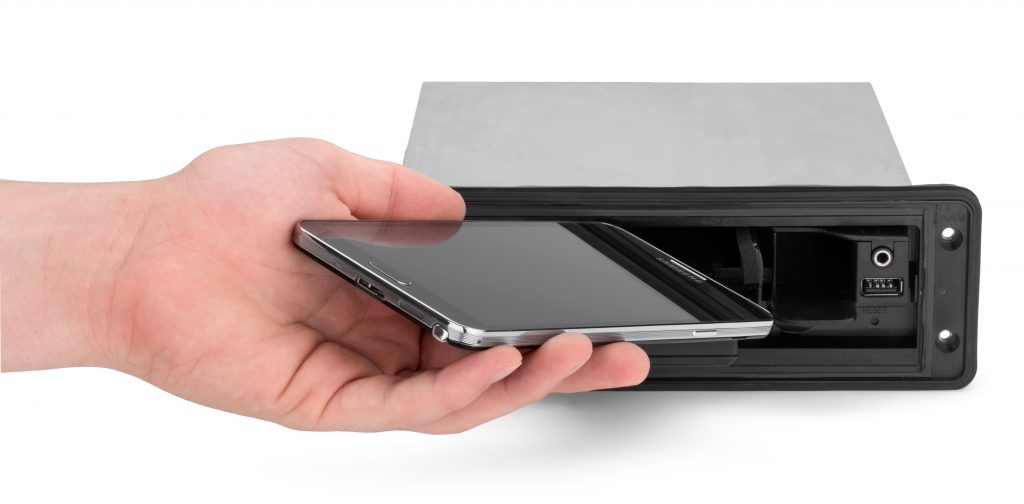 Plug-n-Play Installation
It's important to note Aquatic AV Harley stereos are only compatible with Harley models from 1998-2013. The plug-n-play wiring harness connects directly to the factory wiring harness and uses the existing factory mounting hardware, so installation is a relatively quick and straight forward process, and allows the handlebar controls to continue to be used after upgrading.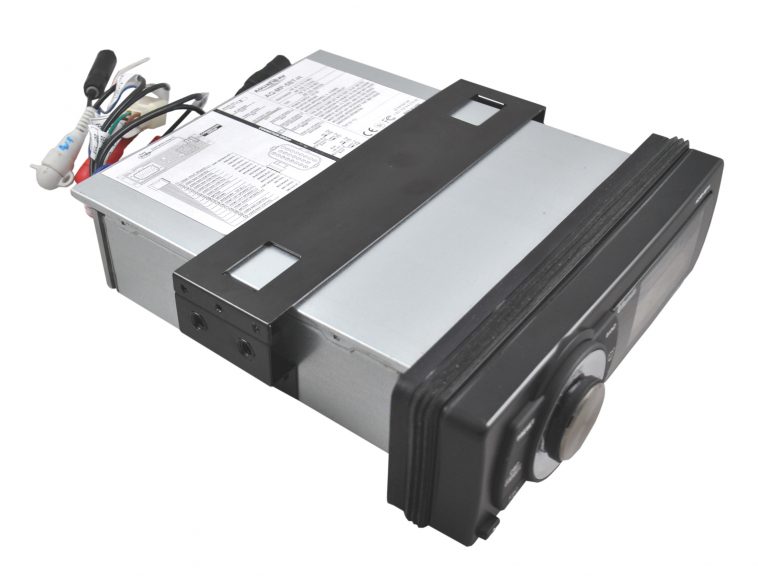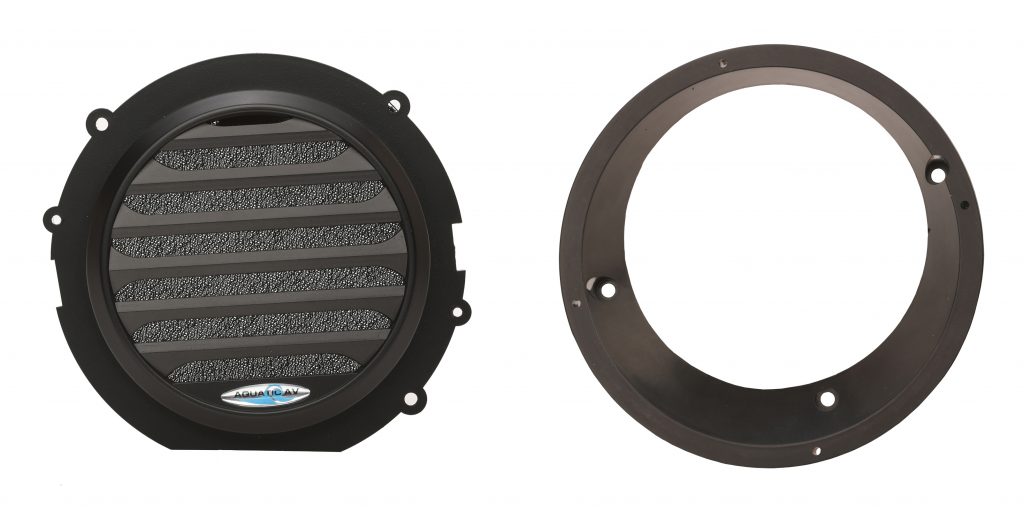 The speakers ship with black mounting rings and grills, to slide right into your existing factory mounting holes. 1998-2013 Harley models will require installation of the grills and mounting rings, while 2014+ models wont.
Speakers
And while we're on the subject of speakers – do you really need to upgrade these as well? Again, Aquatic AV would say so, and judging by the sound of their AQ-SPK6.5-4HB speakers released earlier this year, are probably right.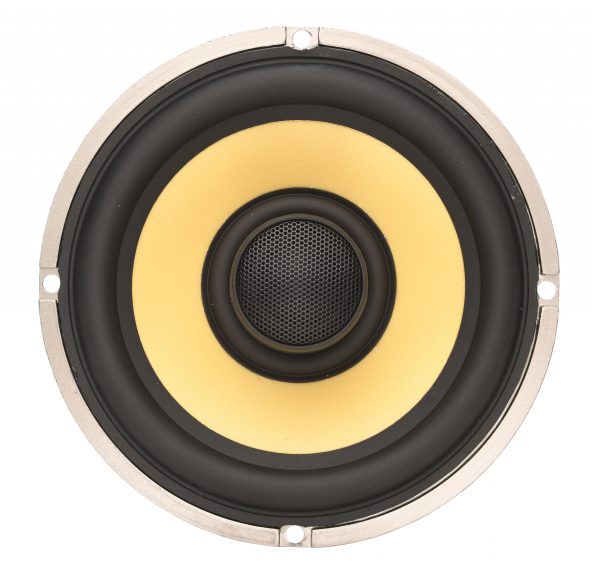 The AQ-SPK6.5-4HB high-performance waterproof speakers pack some serious punch! Rated at 360W max power output, or 180W RMS, per pair, they deliver what can only be described as an outstanding sonic experience across the frequency spectrum.
A frequency response of 60Hz-20,000Hz and a 12db/octave crossover create sizzling highs, low-end grunt and everything in between so you'll notice a big difference compared to the factory speakers, and also most of Aquatic AV's competitors in aftermarket Harley products. Dollar-for-dollar these speakers come out in front by a clear mile.
Much of the detail can be found in the high-frequency content of your music, so to further enhance the listening experience the 1″ silk tweeters can be rotated 360°, directing the sound exactly where it's needed for your perfect ride! Even small adjustments can make a big difference here so the fact Aquatic AV has developed this feature shows a clear passion for creating a better user experience.
The speakers feature a 6.5" complex-fibre cone, 1" silk tweeter and an aluminum basket to achieve their superior acoustic performance, but it also means they look good too! As already noted above, the speakers ship as standard with black mounting rings and grills for a straightforward and speedy installation. 1998-2013 Harley models will require installation of the grills and mounting rings, while 2014+ models wont.
What's over the horizon for Aquatic AV?
Expect more products to arrive from Aquatic AV over the next few months to further enhance your Harley stereo experience. Check out the latest developments, product releases and news from Aquatic AV on their Facebook page or on their website www.aquaticav.com/harley.
Aquatic AV products are LOUD BY DESIGN. Enjoy the ride! Learn More and Purchase by Clicking Link Below.
iPhone and iPod are trademarks of Apple Inc., registered in the U.S. and other countries. Sirius, XM, SiriusXM and all related marks and logos are trademarks of Sirius XM Radio Inc. All rights reserve