Mama Tried 2019!
I'm not sure if there is a motorcycle event in the midwest that holds a candle to what Scott Johnson and Warren Heir Jr. have created in Milwaukee, Wisconsin. With its sixth year in the bag, it has organically grown through the love and support from not only fans but also sponsors, this years being Harley Davidson, S&S, Metzeler Motorcycle Tires, Vans, and the list goes on and on. It has become one of, if not the, ultimate custom bike event in the midwest that helps legions of riders get through the cold, snowy winters. Mama Tried is hosted at the The Eagles Ballroom in February over the course of four days culminating in the custom motorcycle show on Saturday and Sunday.
The Pre-Parties:
This year Mama Tried kicked off with two pre-parties on Thursday evening. The first one, Shovelheads and Sweethearts, was hosted by the Harley Davidson Museum with boonie bike races in the parking lot, tattoos in the bar, a DJ spinning all 70's tunes and a red carpet upon which the builders and Flat Out Friday racers could enter on. It was a great way to set the stage for what was to come and let loose after a 6 hour drive. Plus, the HD Museum Cafe has great BBQ!
The second, and more rowdy, pre-party is hosted at Fuel Cafe by Mama Tried founder and Fuel Cafe Owner Scott Johnson. This pre-party, the less family friendly of the two, kicked off at 9pm. I arrived there around 9 and it was already wall to wall people, complete with a DJ spinning Black Sabbath and Metallica tunes that drowned out the buzz of tattoo guns going in the upstairs portion of the bar for those looking to get some ink done. Walking in I noticed a sign above the bar that stated "No Motorcycles Allowed On Bar", which if you were at the pre-party last year, you witnessed bikes being jumped OFF the bar top! Assuming this year would be more mellow, I made my way to the bar and ordered a drink. I couldn't even get one sip down before I was proven wrong as I heard boonie bikes coming in the bar complete with a jousting lance. After doing a quick ride around the circular bar, they completed this years initiation with a burnout as the crowd roared. Assuming the antics were over, I bellied back up to the crowded bar, found a seat and chatted with the awesome couple from Key Rose Customs jewelry who drove up from St Louis for the show. I was soon proven wrong to assume for a second time that the antics were over when I heard a Harley engine roaring in through the front door and lighting the back tire up. It was ridden by none other than ex-Hooligan racer and madman behind the bars, Mark the Butcher. You may know him from racing, his company Rusty Butcher, or seen his stunts, and it was all too fitting for him to be doing a burnout in the middle of a packed bar in the dead of winter in Milwaukee. He too then kicked off the start of Mama Tried with a lap around the bar narrowly squeezing the Sportster between people and barstools. This is the spirit of Mama Tried.
Flat Out Friday:
The party continued on Friday at the UWM Panther Area with Flat Out Friday. Flat Out Friday is a series of flat track races on an oval concrete flat track that is doused in Dr Pepper. Classes of racing includes Open Amateur and Expert, Four Stroke Brakeless, Youth, Open Vintage, Hooligan, and the crowd favorites of Moto-Scoot 50Fiddy Scooter, Boonie, and Goofball/Inappropriate. Its loud, its fast, and the smell of the two strokes fill up the arena. If you've never seen a flat track race, its a must see at Mama Tried. If you have seen a flat track race you know how good they are filled with thrills and spills.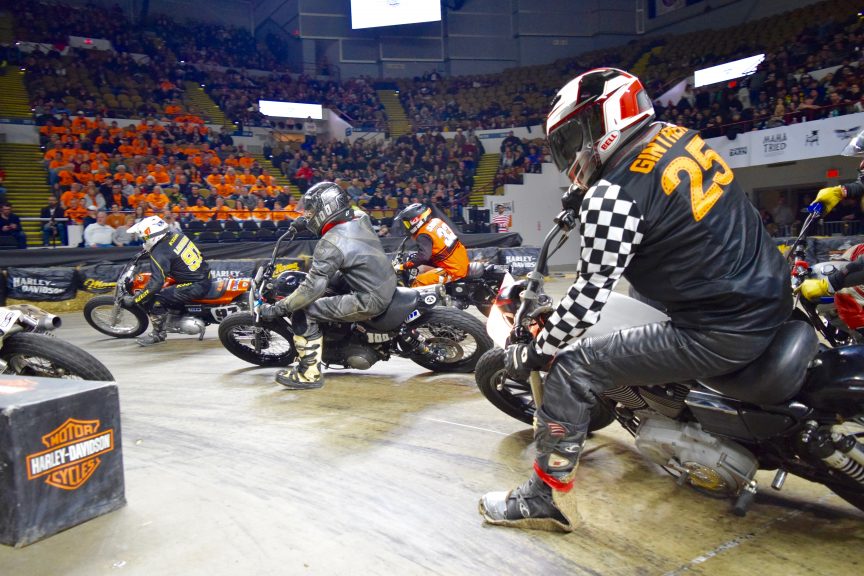 Mama Tried Motorcycle Show:
The main event of the weekend, the custom motorcycle show, covers the multi-floor Eagles Ballroom with bikes and vendors. Invited builders from all over bring their builds in to show the craftsmanship that goes into custom bikes and to celebrate the heritage of motorcycles. The event is rooted in customization in all forms, but mostly around vintage. Its very likely to see Harley's dating back into the 1920's parked next to knucks, pans, and shovels with a solid amount of British and Japanese imports as well. You can spend hours just pouring over the detail put into every one of the bikes between the motor work, custom engraving, custom fabrication and custom paint jobs. The event organizers do a great job curating the perfect blend of all styles so whatever you are into, you are guaranteed to be blown away.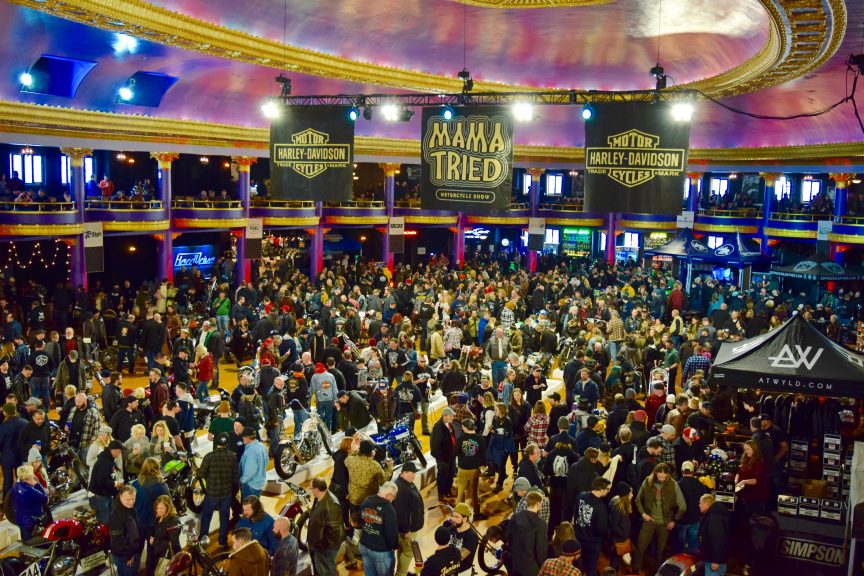 Mama Tried also celebrates innovation as well, which was seen this year by Jeff Holt from V-Twin Visionary, and Hot Bike and Danny Wilson a.k.a. Motor Witch. Their idea was to take an FXR and power it with a new Milwaukee 8 engine. Quite a bit of metalwork had to be done on the chassis due to the differences between the M8 and the Evo motor. Going one step further, fitting a 2018 wiring harness with CAN bus electronics to have the large electronic throttle body, the ability for it to be tuned on a dyno and you're deep into blending out differences between the 1993 FXRP and the 2018 Harley power plant. The finish product was astounding. The whole crew on that build did a phenomenal job and it truly looked like it came that way from the factory.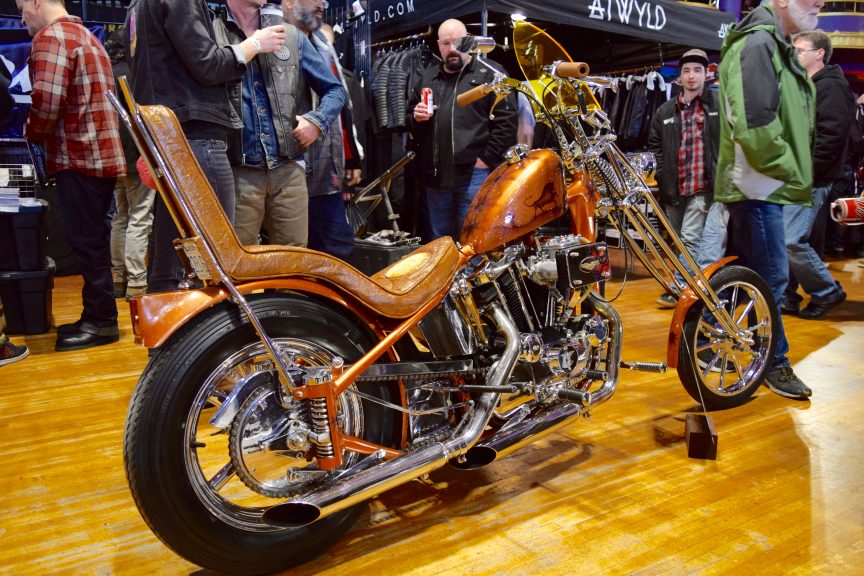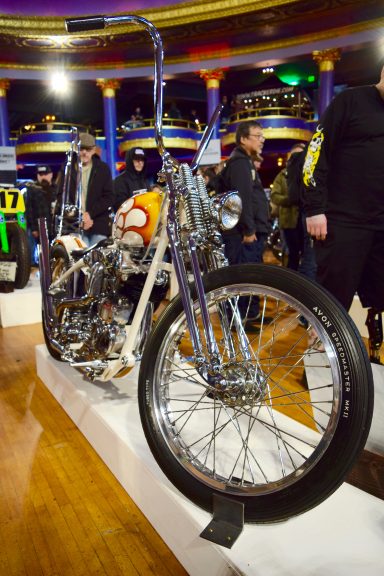 The vendor showing this year was strong as well with Metzeler Motorcycle Tires, S&S, TC Bros, Rusty Butcher, DICE magazine, as well as shops from around the US such as Union Speed and Style, Prism, Vanilla Cycles, and Dream Company who had awesome merch for sale.
What makes this show so special to me aside from the bikes is the laid back vibe. Theres no ropes, no "meet and greets" where you see your favorite builder and only get to shake their hand and say a quick hello. You will run into some of the most talented people in the industry just hanging out, having a beer next to you at the bar, and you can strike up a conversation about their build and techniques. I still chat with some of my favorite builders today that I had met at Mama Tried in years past proving that motorcycling is also about the people.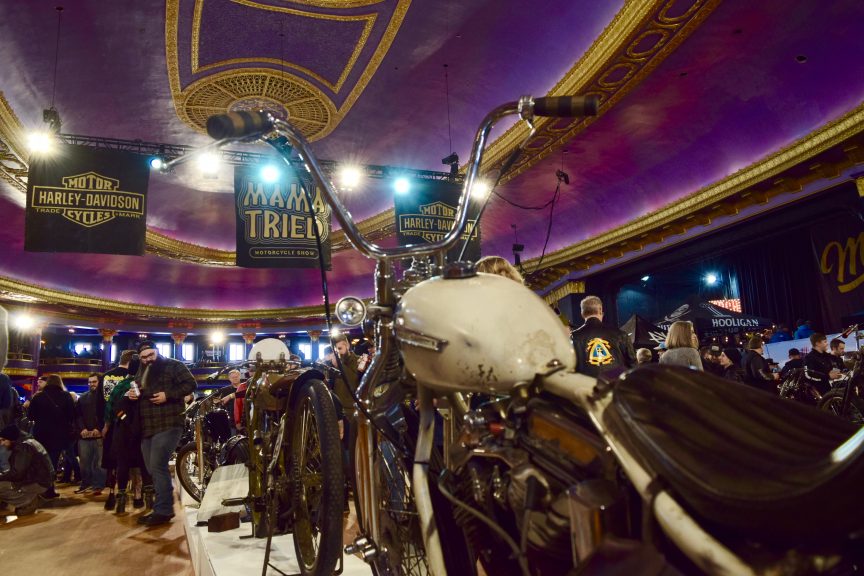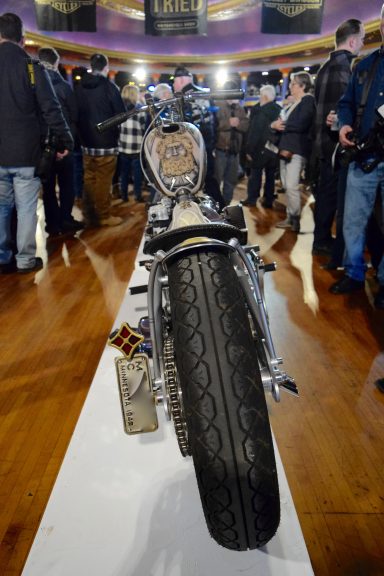 In the evening every year there is a film premier with a Q&A from the producers. This year, Oil In The Blood, a documentary about the expanding subculture of custom bike building hosted its midwest premier at Mama Tried further driving home the ethos of customizing your bike, doing the work yourself, and the bond that is created between the rider and machine.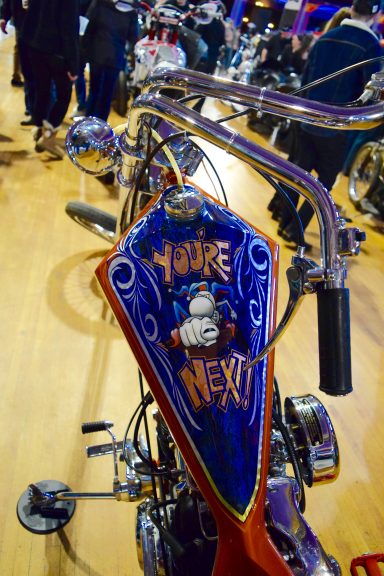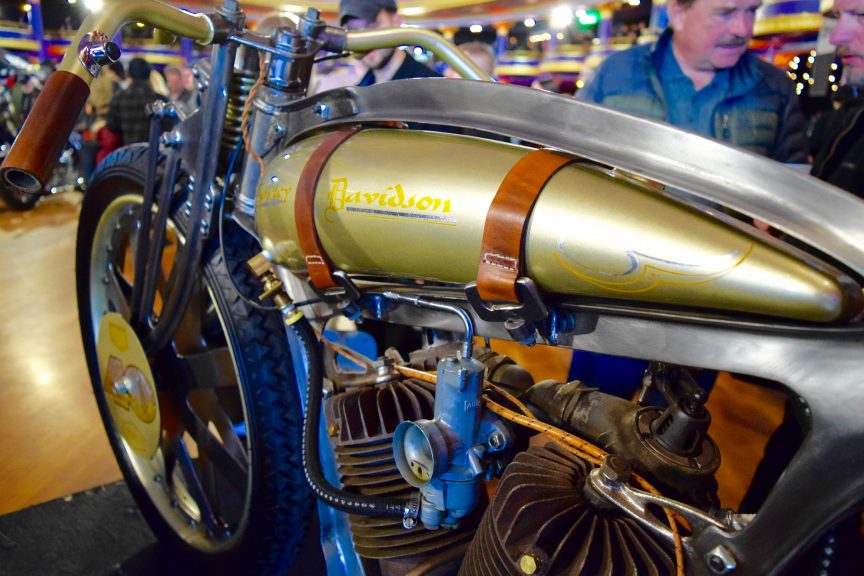 If you haven't been to Mama Tried, and like me struggle to get through the winters without riding, do yourself a favor and go. I'll leave you with a few tips for those who haven't been in previous years.
1. Buy your tickets ahead of time and skip the line. Tickets are available online and Mama Tried does a good job of keeping their website up to date with details on that.
2. Don't skip the pre-parties and after-parties. Motorcycling is not only about the bikes but also the awesome people you meet along the way. You'll meet some of the most genuine down to earth people with motorcycling in their blood at Mama Tried.
3. Don't skip Flat Out Friday! Its a riot between the hardcore racing and antics.
4. Wear the most comfortable shoes or boots you own because you will be on your feet for hours. Luckily, I packed my Benteen boots from Harley Davidson footwear and was stoked all four days.
5. Don't over think it. Just go. You will not regret it.

Until next time, ride safe, wrench safe, and we'll see you at Mama Tried 2020!
See Nate's Video of the Show Here
Please stop by our sponsors Gatorz and Harley-Davidson Footwear to learn more.