Videos on Inspection and Repair:
Cam Chain Tensioner Shoe Video Project
Cam Gear Drive Conversion Video Project
Cam Chain Tensioners

Twin Cams from 1999 through 2006 (expect for the 2006 Dyna) – Harley Davidson's cam chain tensioners on their Twin Cam motors were, to say the least, a complete and utter failure. A lot of us were, and are still, scratching our heads wondering how in the world they could not be held accountable and forced to recall these motors to be repaired on their dime.

Harley, eventually offered us an expensive "upgrade" but it was really just a repair/correction of their bad design. Although some motors are ok up to 40k or 50k. It has been our experience that most cam chain tensioners need replacement between 20k and 30k. We have seen a large number of bad cam chain tensioners under 15k. Debris from these failing tensioners can cause premature failure of the oil pump and cam bearings leading to more catastrophic engine failure.


Where does this leave us?

Being that a failing tensioner cannot always be heard, we have to suggest to our customers & friends that any 2000 to 2006 Harley Davidson with spring style tensioners and 15k miles or more, have a visual inspection of the cam compartment. This is the only way to positively identify if you have good or bad tensioners. If you inspect your tensioners at 20k miles and they appear to have very little wear, it may be safe to run another 20k before another inspection. If tensioners are worn to 50% or less, we recommend upgrading to a hydraulic cam chain tensioner assembly or direct gear drive. Although it is a cheaper option, we do not recommend replacing with a new set of spring style tensioners as it is a gamble on how far they will take you.

When inside your cam compartment, it is of upmost importance that your inner cam bearings and your cam plate bearings be replaced. Also, thoroughly clean and inspect your oil pump and lifters if they are to be reused. There are a number of options available for hydraulic or gear drive assemblies. Cost will vary significantly. Do some research to determine what assembly or combination of parts will work best for you, for your riding style and for your budget.

Here is an example of a bike that recently passed through our shop.

Motorcycle: 2003 FLTR – 35k miles

INSPECTION:
Cam Compartment:
Primary tensioner, approx 10% life
Secondary tensioner, 0% (worn thru)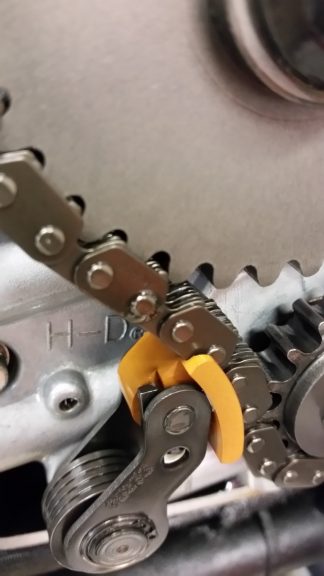 REPAIR:
Fueling hydraulic cam chain tensioner kit
S&S adjustment pushrods
S&S lifters
Cam bearings (inner & plate)
Chains (primary & secondary)
Stock cams – reused
All necessary gaskets/seals & fluids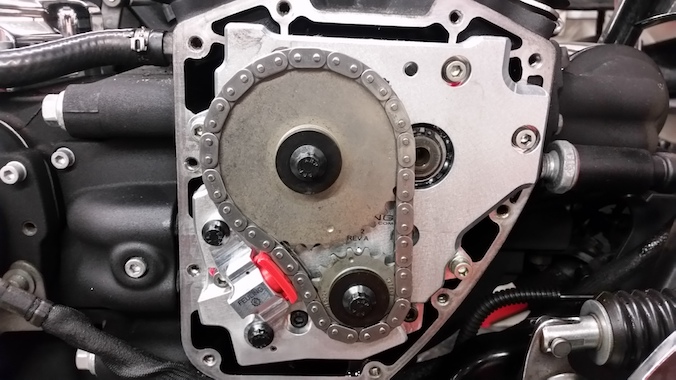 Videos on Inspection and Repair:

Cam Chain Tensioner Shoe Video Project

Project DVD Set
p>Cam Gear Drive Conversion Video Project