We love "new" here at Fix My Hog. Not just shiny and new but better and new! Arnott air suspension asked us to check out their new Ultimate Ride Series suspension kit and we think it's pretty kick-ass. Here it is all laid out on the table for you to see.
About New Suspension:
Arnott released two new lines of adjustable motorcycle air suspension
Smooth Ride Series is an economical line of height adjustable air shocks for touring models as well as many older and less expensive bikes. Provides a sporty, stock like, ride
New Ultimate Ride Series features Fox dampers with optional rebound adjustment knobs and provide a comfortable, luxurious, ride that is superior to stock and other add on shocks
Features:
Arnott's TruAIR Technology combines Fox dampers with multi-ply Goodyear air springs using a patents-pending design
Superior to your stock low pressure air assisted shocks, air cylinder and canister shocks or those low-tech shocks designed for automobiles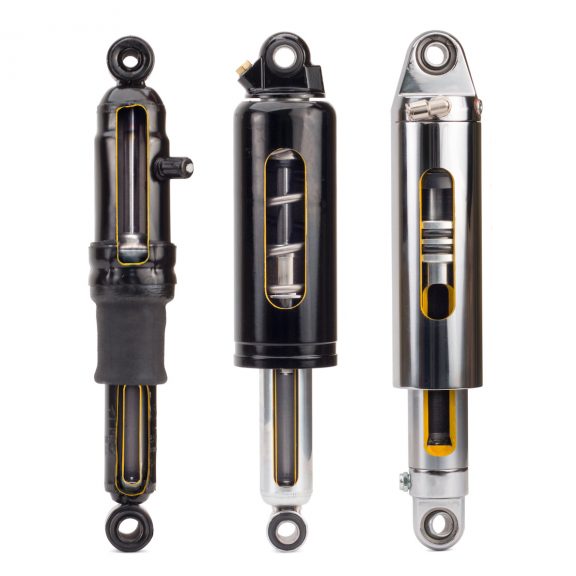 Includes a powerful on-board compressor and handlebar mounted inflation switch
Comes with high-quality mounting accessories and everything you need for a fast flawless installation like more than enough tubing and wiring, a distribution valve, relay and fuse, detailed instruction manual, color coordinated bolt covers and even split loom to protect the air lines.
Kits are custom designed for each motorcycle make and model. For example they are engineered with the same shock travel as the stock shocks and come with an application specific compressor mounting bracket
Benefits:
Backed by a Limited Lifetime Warranty in North America and Europe which covers the entire system for as long as you own your bike
Up to 3" of shock travel adjustability so you can quickly lower your bike for stopping, parking or for that slammed look.
But if you forget to air up the shocks – you can still ride it. Since they use the same shock travel as the OE the shocks are designed to not let the fender touch the tire
Arnott air suspension shocks also almost eliminate painful bottoming as long as you have air in the shock's air bladders
But the most important benefit is the improved ride comfort and safety. Arnott air shocks keep your rear wheel on the pavement and smooth out bumps like railroad tracks and washboard roads – regardless of how much weight is on the bike
About Arnott:
Factory is located in Merritt Island, Florida about 1 hour south of Daytona in a 300,000 square foot manufacturing facility which includes a 67,000 sq foot R&D center
Arnott air suspension is one of the world's leading suppliers of aftermarket air suspension replacement products for luxury cars, Trucks and SUVs since 1989
Developed a line of Adjustable Motorcycle Air Suspension Products about 15 years ago
ISO 9001:2008 certified based on quality management principles which include strong customer focus and continual improvement of robust, efficient processes.
More info at www.ArnottCycles.com or calling 877-900-0247
Related Videos:
Arnott Suspension review
Arnott Aldan 11-Way Adjustable Air Suspension System Install